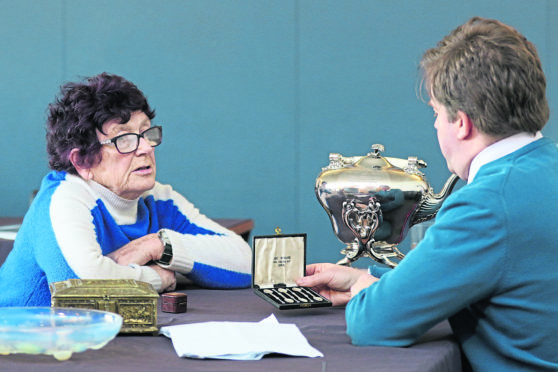 An engagement ring thought to have been used in a daring escape from Russia was one of the star items at an antiques valuation event held in Inverness yesterday.
Members of the public were invited to the Culloden Battlefield visitor centre to learn more about their family heirlooms, and to find out what they could be worth at auction.
Pocket watches and a Baker Troll music box from circa 1900 were among the more valuable items that delighted experts from Bonhams auctioneers.
Managing Director Charles Graham-Campbell said it had also been exciting to see items with Scottish provenance. He added: "Things that have a story attached are always rather good. We had a Canterbury, which is like a Victorian magazine rack for sheet music, from Slains Castle, which is where Bram Stoker got the inspiration for Dracula."
One item with a compelling history was an Edwardian diamond ring belonging to Margaret McInnes from Balloch.
She explained: "My granny's second cousin was Alec Richie of Iona Celtic Art, and his sister Mary was a governess in Russia before the revolution. At the revolution she fled with children, and she had to go right in to the Arctic circle to reach the escape route to Paris. The family always referred to the ring as Mary's engagement ring, but we think it was one of the things that was given to her to help pay the way to get the children out of Russia."
Bonhams senior valuer Hamish Wilson supported this theory.
He said: "People carried silver or jewellery because it was transportable and it could be readily sold at whatever point they got to, so it was almost like a mobile currency between countries.
"We don't see many examples of Russian jewellery, so it was certainly very interesting. This was a pleasantly shaped ring of the Edwardian era, with nice clear diamonds, a very nice example of good jewellery from the turn of the century. I suggested it was worth between £700 and £1,000."
Among the other items viewed by the Bonhams experts were rugs, furniture, silverware, a set of watercolours by 19th century artist John Blair, and a mysterious Old Master painting that art specialist Grant MacDougall has made it a personal mission to identify.
Items of note discovered at the event can be submitted to The Scottish Sale in Edinburgh on May 15th. The event, this year celebrating its 20th anniversary, features the best of Scottish antiques, including art, furniture, books, maps, and pottery.