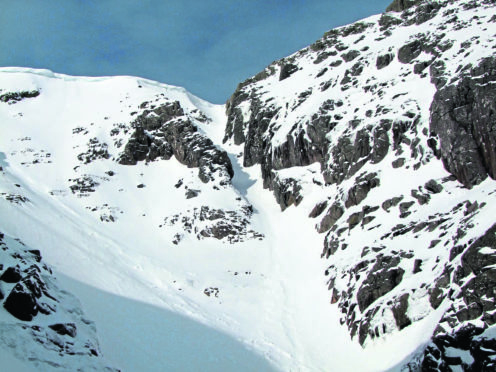 Three climbers were killed yesterday after being swept 1,500ft down Ben Nevis by a horror avalanche – while another suffered serious injuries.
The emergency services were called at around 11.50am to an area known as Number 5 Gully near the top of the 4,409ft peak.c
Donald Paterson, deputy team leader of Lochaber Mountain Rescue Team, said the four men, believed to be Swiss, had been hit by a "massive" avalanche.
He said: "It must have fallen from 4,000ft at the top – and fell 1,500ft onto them. It swept them away."
It is believed a guide and a recorder from the Scottish Avalanche Information Service saw what happened and raised the alarm.
Mr Paterson added: "One of the climbers died pretty instantaneously, the other had CPR for half an hour but sadly did not respond and the other died while being taken down the mountain.
"The fourth – they were all young men – was in a serious condition and stretchered half way down the mountain to where the helicopter took him to hospital in Glasgow."
"We did all we possibly could – we had every available person we could get hold of. There were four stretcher parties. We carried the bodies all the way down. It is a terrible tragedy. They just got wiped out by the avalanche.
"This was a natural avalanche – it was not human triggered. It was brutal conditions."
The tragedy happened on the UK's highest mountain just hours after the Scottish Avalanche Information Service (SAIS) had warned the potential avalanche risk in the area was "high".
Inspector Isla Campbell said: "We are working on identifying them and telling their next of kin.
"Although we will know more once our investigations are completed, there were warnings of high avalanche risk in that area.
"It's very sad. This is just a reminder that the mountains are not to be trifled with."
Heather Morning, safety adviser with Mountaineering Scotland, said: "It's absolutely tragic. These latest tragedies reinforce our message to do your homework before setting out to enjoy the hills."
Constituency MSP for Lochaber Kate Forbes described the news as "absolutely awful."
She said: "First and foremost my thoughts are with the families of the climbers. This is heart-breaking news."
First Minister Nicola Sturgeon said: "This is absolutely tragic news. My thoughts are very much with the bereaved and injured."
A mountaineer took to the UK Climbing Forum to describe the moment he witnessed the avalanche, saying: "Huge powder clouds. Guys who had attempted a climb earlier had aborted because of the conditions."
Number 5 Gully bounds the southern side of Carn Dearg Buttress. Its start height is around 3,982ft, and the descent is just over 1,000ft.
SAIS had issued a warning saying: "As the freezing level rises during the night, there will be a brief period of high instability with avalanches occurring on many steep north, north-east and east aspects above 900m (2952ft). The avalanche hazard will be high."
It is the latest tragedy on the Scottish mountains this winter, with the latest fatalities taking the total to 10.
They include other deaths on Ben Nevis, including a 21-year-old German woman, who was a student at Bristol University, who died while climbing with three other on New Year's Day. In December Patrick Boothroyd, 21, from West Yorkshire also died on the mountain.