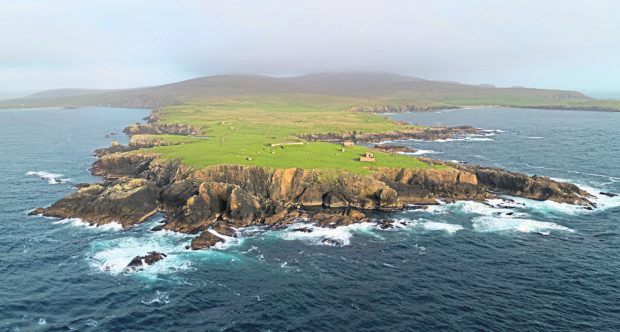 A former RAF officer leading Shetland's bid to host the UK's first satellite-launching base has revealed why he is convinced his team is "winning" the space race.
Frank Strang said it was "not rocket science" that would decide where the spaceport is located, just basic geography and the backing of "heavy hitters" from across the world.
In Monday's P&J, Mr Strang spoke of his "disappointment, frustration and anger" at the conduct of Highlands and Islands Enterprise (HIE) in a funding contest run by the UK Space Agency (UKSA) to develop the country's first spaceport.
He alleged that the Shetland project was "deliberately kept out" of the loop by HIE, which has backed a spaceport plan for The Moine in Sutherland, despite its own study showing that Shetland was the best location in the UK for launching rockets vertically.
But Mr Strang still believed that his proposals for Unst would succeed, confirming he expected to lodge its planning application in June, and anticipated having its first launch next year, earlier than the 2021 date targeted by HIE for Sutherland.
"I think we will get there first. Hand on heart, we will get there first, and from what I know, and I may be completely wrong, the land ownership issues, and the environmental issues around the Sutherland site, will mean that it will not be ready in time by 2020/21 for a licensed launch," he said.
"I'm not saying they may well not get there, but it's going to take time.
"What I've found out over the last couple of years is that space is about logic, it's about maths, physics and geography. And the maths, physics and geography all pointed towards our site being the optimal site.
"I keep saying it's not rocket science, it's just factual."
Despite his criticism of the handling of the funding contest, Mr Strang is not opposed to the Sutherland scheme.
In fact, he grew up in the county, in Dornoch, with his step-mother's family hailing from north-west Sutherland, and his step-grandmother having worked as a district nurse, where she "went round the north on a motorbike".
After serving as a commissioned officer in the RAF for just under 12 years, Mr Strang left the air force after breaking his back in a parachute accident, and "got into business".
He founded a firm called Omniport which began establishing a network of small regional airports, including Prestwick, Norwich and Maastricht, before he sold out.
Mr Strang then bought the former RAF Buchan base, but he ended up having to liquidate because of the recession.
After that episode, his contacts in the defence sector got in touch in about 2006/07 to ask if he would be interested in acquiring Saxa Vord, a former RAF base on the Shetland island of Unst, which had once been on the front line of the Cold War, monitoring Russian activity in the north.
The site "became a labour of love", attracting wildlife lovers and tourists to its guest accommodation, but Mr Strang was "always looking for the sustainable key to making it work".
Mr Strang found what he now believes to be that "key" when he discovered that the "Sceptre" report, backed by HIE, had identified Saxa Vord as the best site for launching rockets.
Despite missing out on entering the UKSA's funding contest, for which he blames HIE, Mr Strang said: "What we decided to do was to go forward, because the Sceptre report made it clear that we were the optimal site.
"We felt that we had been grossly unfairly treated by our local enterprise agency, but what gave us the belief to carry forward was that industry was coming to us and the industry was saying this was the optimal location."
---
>> Keep up to date with the latest news with The P&J newsletter
---
Significant players in the space sector "started coming to us", according to Mr Strang, including US giant Lockheed Martin, and the ArianeGroup, which is owned by Airbus and Safran.
"We've developed the relationship with Ariane to such a point that it's basically a partnership, and along with Ariane comes the rest of Europe," he said.
HIE hope Shetland Space Centre (SSC) can provide satellite tracking for its Sutherland scheme, but SSC director Mr Strang said: "They talk about ground control (for Shetland) now because Lockheed Martin and everyone has told them that we're the best location.
"And that's fine. Great. But we're the optimal site for launch. And we've got a community where by far the majority are all in favour of it."
He added: "Over the last year-and-a-half we've been learning the game, we've put together a small team, working with some pretty heavy hitters in America and obviously the European side."
Asked if he was worried about coming across as a bad loser in the space race, after Sutherland was awarded funding, he responded: "I'm not a sore loser because we're carrying on.
"We're losers in so far as we're not getting public support, but we're actually winning because we're getting private sector support and we're getting the industry coming to us."
HIE has denied that it excluded SSC from the funding process and insist the timetable for its Sutherland project is "ambitious but achievable".