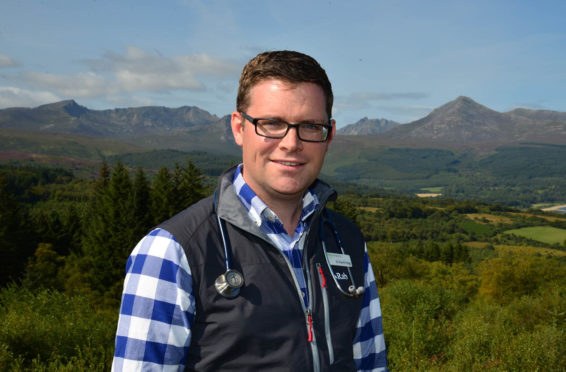 A leading doctor has quit a Scottish Government task-force amid claims rural GPs are "increasingly despondent" about the "damaging effects" of a new contract.
Dr David Hogg, the Arran-based vice chairman of the Rural GP Association of Scotland (RGPAS), resigned from a Holyrood working group yesterday, saying efforts to address the concerns had "fallen by the wayside".
The move followed a survey of RGPAS members which found that 100% of respondents believed the deal had failed to improve rural healthcare.
The contract, which was introduced on April 1 last year, aimed to cut workload and make it easier to run practices.
However, concerns have repeatedly been raised about a new funding formula that is based on the number of appointments and fails to reflect the challenges faced by rural GPs who have to travel longer distances to patients and practices.
The RGPAS, which represents almost 100 GPs, including many in the Highlands and islands, said 90% of surgeries in rural areas would have their allocated funding reduced as a result and claimed it would inevitably lead to the "extinction" of practices.
The Scottish Government established a rural short-life working group (SLWG) last year to try to address the issues but the RGPAS yesterday revealed it had withdrawn from the task-force in protest at its failure to make any progress.
In his resignation letter, Dr Hogg said: "The promise of an effective SLWG to address these concerns, and specifically, to find ways to ensure that the contract could be implemented successfully to rural communities, seems to have fallen by the wayside."
---
>> Keep up to date with the latest news with The P&J newsletter
---
Dr Hogg highlighted a recent survey of rural GPs which found 42 doctors, or 82%, believed the contract had made local healthcare "worse", while nine of the GPs, or 18%, thought it remained "much the same", and none who said it had made the situation "better".
He added: "I have become increasingly despondent about us seeing any pragmatic, realistic proposals to reverse the damaging effects of the new GP contract in rural Scotland."
Last night, Scottish Conservative shadow health secretary Miles Briggs seized on the criticism.
He said: "Nicola Sturgeon seems to think her GP contract was a rip-roaring success. In fact, it's failing the bulk of Scotland's land mass and a fifth of our population.
"It's just the latest example of the SNP obsessing about the central belt and paying next to no heed to rural Scotland."
A Scottish Government spokeswoman said: "GPs in remote and rural communities provide vital and committed healthcare services to their patients, in often challenging circumstances.
"We value the views and contributions of rural GPs, and the Rural Working Group will continue to engage with RGPAS as it continues this important work."