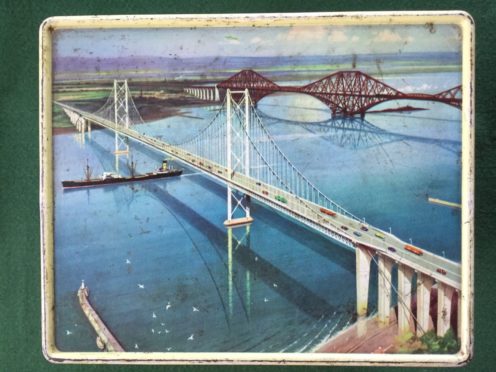 As public appeals go, it really takes the biscuit.
An Orkney man has launched an emotional search for a missing old biscuit tin.
The 60-year-old tin is of "huge sentimental" value to farmer Magnus Spence as it has been in his family all its life.
It was bought new by his late mother Sheila – who died in December aged 85 – while she worked as a medical technologist in Edinburgh.
The McVitie and Price tin was accidentally given to charity in January, while Mr Spence, 52, from Burray was having a clear out.
Depicting an artist's impression of the Forth Road Bridge ahead of its construction, vet's son Mr Spence said that the return of the tin would mean a great deal.
After scouring charity shops, there have been very few crumbs of evidence to indicate where the lost object might be. He is now appealing to public to try and trace the treasured tin.
"The financial value of the tin isn't very high," said Mr Spence.
"But it is of huge sentimental value and I'm desperately keen to get it back. It has been in our family for generations and I remember my mother giving us Jaffa cakes from it. These things and memories do mean a lot to families."