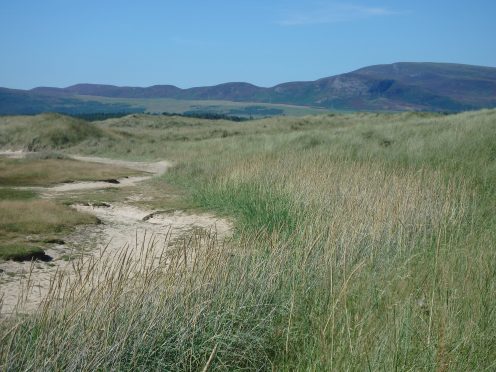 Two of Scotland's biggest walking charities are to join forces today to oppose "damaging and inappropriate" plans to transform wild Highland dunes into an 18-hole golf course.
Ramblers Scotland and ScotWays plan to tell a public inquiry in Dornoch that the proposals threaten to permanently transform Coul Links near Embo in Sutherland.
They claim it will cause negative impacts for the landscape, informal outdoor recreation and public access rights at the protected site.
Helen Todd, Ramblers Scotland's campaigns and policy manager, said: "Coul Links is hugely valued by people seeking to enjoy solitude and nature amongst its wild and special dunes.
"These ill-conceived plans could restrict public access and harm visitors' and residents' enjoyment of the area.
"We must stand up for memorable, quiet places like Coul Links – before they're lost forever. They form an important element of what makes Scotland so special, especially when contrasted to Highland honeypots like Skye or Glencoe."
John Mackay is ScotWays' honorary advisor and is scheduled to give evidence at the inquiry today.
He said: "Coul Links is a special place, having one of the finest beaches on the Moray Firth. It sits alongside the Loch Fleet basin, backed by the local hills to the north, all of which combine to create a very fine natural landscape.
"Coul and its wider setting, and the nature conservation interests of this area, are important assets for the many holiday visitors to Embo. They should be protected against development."
The charities' evidence includes an article from a local resident on what Coul Links means to her. She writes: "Coul is one of the few truly special places in Scotland, where unexpected encounters with the wild are not only possible, they are likely."
The first phase of the inquiry began on February 26, focusing on ecological issues.
A coalition of seven conservation charities including RSPB Scotland, National Trust for Scotland and Scottish Wildlife Trust argue that the plans seriously threaten biodiversity and wildlife.
The inquiry was called after Highland councillors voted in June 2018 to grant planning permission for the course, despite their own officials advising them to refuse.