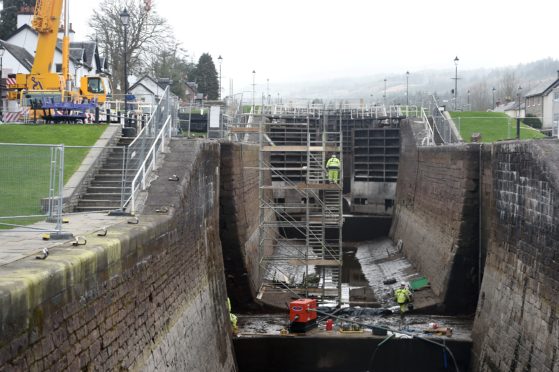 Caledonian Canal bosses face a race against time to have the world-famous waterway reopened by Easter – sparking fears of the impact on tourism.
The 60-mile canal, created almost 200 years ago, has been closed while lock chambers were drained at Fort Augustus – and nearby Kytra and Cullochy – to allow a £5.3m refurbishment to be carried out.
It was to reopen to boat traffic within days, but the date has now been delayed to April 17 – more than halfway through the school holidays.
---
Keep up to date with the latest news with The P&J newsletter
---
Scottish Canals has apologised for disruption caused to boat users after confirming engineers faced challenges over the installation of new modern lock gates into the historic walls of the chambers.
Deirdre MacKinnon, chairwoman of the local community council, said: "The closure is having an impact on businesses and the delay is very disappointing.
"We know the work has to be done, but some businesses are already affected, with one closing for a few days."
Audrey Hogan, of Caley Cruisers, which leases out 28 boats, said: "Obviously we have lost bookings, which is disappointing.
"But our view is the repairs need to be carried out to ensure the locks are fit for use for the future, so we can continue to use the canal for years to come.
"It is a tremendous asset for the area and we understand it is a big engineering job."
One restaurant owner, who did not wish to be named, added: "I will lose some trade from potential boat users, but Fort Augustus is still busy and we will just have manage a few more weeks without the canal being open."
Politicians voiced concern at the delay.
Conservative Highland MSP Edward Mountain said: "I urge Scottish Canals to complete the work on the Caledonian Canal as soon as possible as the canals are vital to the tourism industry in the Highlands."
Local MSP Kate Forbes MSP said: "It is a complex operation in anybody's estimation and so, although the delay is disappointing, it is fundamentally important that Scottish Canals ensures there are no safety concerns before allowing boats back on the canal.
"I hope there are no further delays and the canal will be reopened for the Easter bank holiday weekend."
Highlands and Islands Labour MSP David Stewart added: "It is a great pity that the canal now can't open until midway into the Easter holidays and that will be disappointing for many tourists, businesses and locals as the waterway always proves a great draw.
"However, any new engineering system can encounter problems and my best wishes go to all those canal workers who are at the sharp end trying to solve this to launch the canal boating season."
Peter Robinson, head of engineering at Scottish Canals, said: "Due to unexpected issues encountered with the historic fabric of the lock chambers at Fort Augustus and Kytra, the Caledonian Canal will now reopen to sea-to-sea traffic on April 17.
"While our teams have been working seven days-a-week to complete the refurbishment of the lock gates, caring for the infrastructure of this 200-year-old Scheduled Monument – and ensuring we do so in a safe and considerate way – is not without its challenges.
"We would like to apologise for the disruption that this change in programme will undoubtedly cause our boating customers
"We would like to thank our boating customers for their understanding during the project, which will safeguard the future of the canal for years to come. We look forward to welcoming the world to the Highlands when the Caledonian Canal reopens."