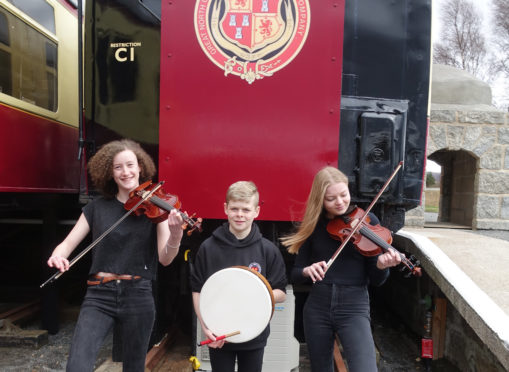 He was a near-legendary figure who travelled the railways of the north composing tunes to entertain his fellow passengers.
And now, the life of the Moray Minstrel – also known as the Railway Fiddler – is to be honoured by a Strathspey music festival.
Grantown East Highland Heritage Centre and Cultural Centre, headline sponsor of the Fiddler of Strathspey Festival this September, is reviving the legend of James McQueen with a new competition.
The new visitor attraction, based in a former Grantown Railway Station and two reconditioned railway carriages, has commissioned a specially crafted trophy for the festival.
This will be awarded to a fiddler who can introduce and play their own composition – just like McQueen used to do.
The Railway Fiddler, born around 1862, travelled between Forres and Aviemore composing songs and playing his fiddle entertaining passengers.
Other top trophies at the festival include the Maggie Adamson Goblet for the competitor judged best at playing a set of tunes from the Angus Cumming Collection.
Also, an award for the "Chieftain's Fiddler" – nominated as the fiddler who plays most competently a set of Reel Of Tulloch Variations. These trophies will also carry a substantial prize purse. Numerous other classes and trophies will feature in the competitions.
Bill Sadler, the festival lead organiser said: " We expect this friendly festival to attract audiences and participants from across Scotland and competitors of a very high standard as well as those taking their first tentative musical steps".
Lead fiddlers playing at the festival include Paul Anderson, an acclaimed traditional fiddle virtuoso and Ronnie Gibson, conductor and leader of the Aberdeen Strathspey and Reel Society. Also playing will be the Cairngorms Orchestra and Feis musicians.
Uniquely, the festival will also involve internationally renowned Carnyx players with not one but three recreated Pictish ceremonial war horns: from France, Ireland as well as the Deskford Carnyx found near the Spey.
The event takes place in Grantown and Boat of Garten from September 20 to 22. It will include an open-air service and a picnic in the Square, sessions, ceilidh, fiddlers rally and workshops.