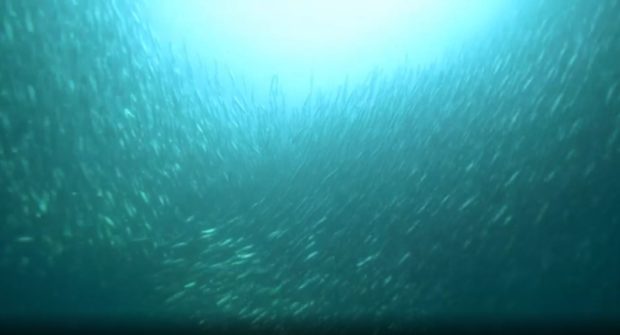 Hopes have been raised for the future of the north's fishing industry after large shoals of herring were filmed spawning off the north-west coast.
The footage, which is the first of its kind ever to be recorded in Scotland, could signal the recovery of the species.
It was captured by divers working on the Blue Planet UK series and screened last night.
Local fishermen witnessed the shoals close to shore in Gairloch throughout last March, indicating that the fish were likely to spawn in the area.
Atlantic herring, which were once the heart of the thriving west coast fishing industry, have remained at historically low levels for years.
Populations of the fish across Scotland collapsed in the 1970s and 1980s and although there has been a gradual increase in North Sea herring, west coast stocks are still recovering from decades of over-exploitation.
Sustainable seafood campaign group, Open Seas, believes the government should now act to protect the spawning grounds at Gairloch and ensure numbers can continue to grow.
The organisation's Nick Underdown said: "Given the boom and bust history of the herring fishery, these fish need all the help they can get.
"Herring are one of the foundations of healthy seas.
"If the stock was to recover on the west coast it could underpin the future of our fishing industry and rural communities for decades to come.
"Spawning grounds are precious and we are urging the Scottish Government to protect the full, known extent of the herring spawning ground in Gairloch.
"We should invest in these areas by protecting them for future generations."
The habitat off the west coast contains maerl beds – a form of algae – which offer "perfect seabed conditions" for spawning fish.
But Mr Underdown fears that dredging or trawling could ruin the environment and make spawning difficult.
He added: "Last year we recorded an incident of illegal scallop dredging in Loch Gairloch and further reports of suspected illegal trawling have continued.
"This is extremely frustrating for the law-abiding majority of fishermen."
Every year, herring swim from deep offshore seas towards Scottish coasts, where each female fish lays tens of thousands of eggs.
The eggs stick to the seabed and after a few weeks develop into fish larvae – the next generation.
Herring spawning used to take place in such huge numbers that there are tales of the waters turning white with fish eggs.