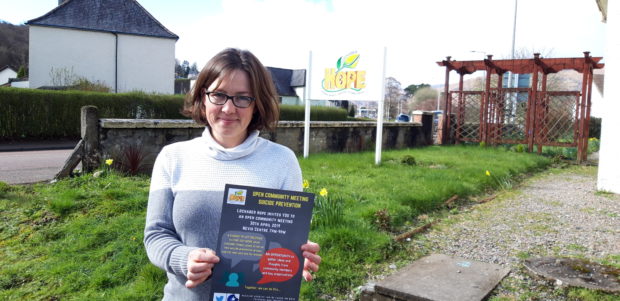 A suicide prevention group is to be started in Fort William after a sharp rise in the numbers of men and women seeking help from a Lochaber charity.
More than 62 people in just over a year have approached Lochaber Hope to discuss feelings of wanting to kill themselves or being "better off dead".
It is hoped a new group will be able to support people, and ultimately save lives.
Carrie Starkie, project worker at Lochaber Hope, said: "We have been speaking with a group set up in Oban, Martyn's Monday  Club, and we are hoping to be able to set up a similar project here in Fort William.
"We would hopefully have a group for men, and a group for women."
Ms Starkie points to national figures showing more than 680 people took their own life in Scotland in 2017. The suicide for men at 522 people is three times higher than that for women, at 158.
17 people who were actually suicidal had approached Lochaber Hope in the last year.
She continued: "We all sadly know of someone who has felt suicidal or has taken their own life and the sooner we can work through those thought and feelings to break the stigma the better.
"We aim to raise awareness about mental health and suicide and to make it more socially acceptable to to talk about these issues and develop a deep awareness of issues in the community.
"These groups will be led by trained facilitators. Facilitators will come from the community as volunteers and go through specific training. We hope to have a bank of trained volunteers for both groups.
"Our group, like the one in Oban, will be using the slogan Together We Can Do This, with the hashtag itsgoodtotalk – these are really simple  messages to let people know that speaking about problems and feeling suicidal can help."
Ms Starkie said the group in Oban, since setting up last year, had already been fundamental in saving two lives. She hopes the same will be true of the Lochaber groups.
"We still have to find a venue for the groups to meet. We are hoping that it will be held on a Monday somewhere in the town. We would like it to be on a Monday as it is statistically proven that a Monday is a peak day for people to take their own lives. "
A community meeting to discuss the group, and recruit volunteers will be held on April 30 between 7-9pm at the Nevis Centre in Fort William.