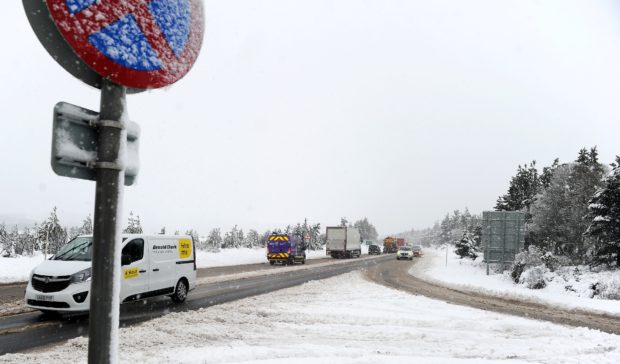 The weather across Aberdeen, the north-east, Moray and the Highlands and Islands is set to improve, but rain will visit every region in the coming days.
Met Office meteorologist Alex Burkill said: "Thursday is going to bring with it persistent rain across the whole of the northern region, covering as far north as Orkney and the northern isles but not reaching Shetland.
"Underfoot for the early parts it may be icy, so we would urge people to take care when out and about.
"Some sleet and snow are to be expected on the highest peaks of above 600m, but nothing like the levels we experienced on Wednesday. We will experience mostly rain and the air will be just a little bit warmer, with winds easing up and becoming lighter.
"The Western Isles and far north will still experience high winds of up to 30-40mph, adding to the cold feel in the air, as it shapes up to be a cold one with highs of around eight degrees at best.
Weather hampers north as schools are closed, motorists delayed and trees felled across the region
"Overnight and into Friday, we are expecting to see further rain throughout the night and we could see temperatures as low as zero overnight, so again a there will be a touch of frost and maybe some icy patches.
"On Friday itself, some rain is anticipated but we anticipate this to break up across the afternoon. It will be drier throughout the day with winds easing up by mid-afternoon, and we could see highs of 11 or 12 degrees.
"The weekend is going to get off to a wet start with rain pushing in from the east and the day becoming a bit blustery. Temperatures will be a little cooler than Friday where we are expecting highs of around seven or eight degrees for most of the north, with the Western Isles experiencing the best of the day, with highs of around 11 or 12 degrees and mostly dry spells.
"Sunday is looking largely dry with a few showers pushing in from the east, hitting Orkney and Shetland first. The showers will be fairly scattered, with areas often dry with some bright sunny spells."