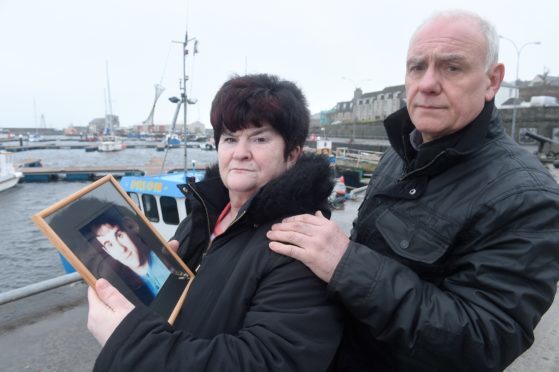 Prosecutors have told the family of Kevin Mcleod – found dead in Wick Harbour 22 years ago – it will be at least another month before a decision is made on whether further police action will be taken following new information provided by witnesses.
Detective Chief Inspector Martin Bell handed a report into the latest probe of the "unexplained" death of the 24-year-old electrician six months ago.
But Kevin's family are furious at the length of time it is taking the Crown Office and Procurator Fiscal Service (COPFS) to decide on the next direction of the investigation.
In the latest correspondence to the family, deputy Crown agent Lindsey Miller told parents Hugh and June Mcleod: "DCI Bell's report together with subsequently submitted materials are being given active consideration by the review team.
"They are assessing next steps in relation to approaches to further witnesses and a decision will be made as soon as possible in this regard.
"The review is being overseen by the Deputy Crown Agent's office with the preparatory work being done by a senior member of staff and the head of that unit.
"A further update will be provided during the week commencing April 29."
But Mr and Mrs Mcleod are upset at the latest "delay", saying: "The COPFS and the police  are clearly dragging their heels.
"The alleged police inquiry into Kevin's death in February 1997 was over before it began despite the then procurator fiscal's specific instruction to investigate Kevin's death as murder – this after he had been informed by the pathologist that Kevin's massive abdominal injuries were "possibly consistent with a kicking received several hours before death".
"The family, after 22 years fighting for justice, just want both the recent police investigation and a review instructed by the Lord Advocate to come to a conclusion so we can hopefully return as a family to some sort of normality.
"The family want to know if Police Scotland, after a prolonged in-depth investigation, is about to make any arrests in connection with Kevin's death?"
Detectives interviewed 15 witnesses last year following new information into the death.
The move was the result of an alleged eyewitness coming forward claiming he had heard a commotion, a splash and witnessed two people watching Kevin struggle in the water in the early hours of February 8, 1997.
The COPFS have said they are keeping the family updated with developments.
The Lord Advocate last year instructed the Criminal Allegations Against the Police Division to independently review the investigation, with a view to considering whether or not any further enquiries would be appropriate.