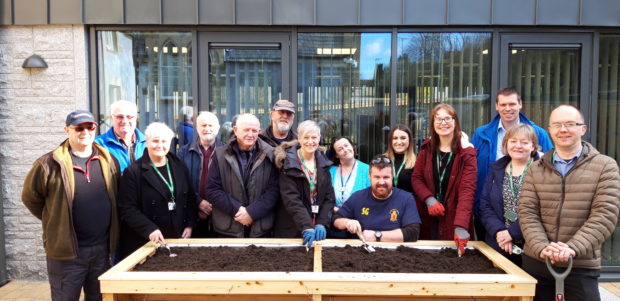 The Men's Shed in Fort William has presented planting troughs for a gardening project at the town's Charles Kennedy Building.
A squad of handymen, who meet three days a week at the Blar Mhor Industrial Site, delivered the planters yesterday to Highland Council offices and they are already in pride of place in the building's courtyard area.
The Good Grub Growing project aims to promote a sense of well being and sustainable lifestyle choices by delivering a food growing initiative using a space at the new Charles Kennedy Building.
The project aims to encourage the sharing of knowledge and skills, promote the growing of healthy food, and to reduce the carbon footprint.
Members of staff working in the building identified the food growing project as a way of bringing people together, to be out in the fresh air and grow fruit and vegetables.
After staff successfully secured a grant from the Pebble Trust to help set the initiative up, the Fort William Men's Shed were commissioned to make the planting troughs which have been designed to be accessible for people using wheelchairs.
Assistant ward manager Emma Tayler who has led the project said: "Good Grub is already developing links and relationships with the community.
"We are all thrilled that the Men's Shed agreed to take on the making of the planters and appreciate all the work that has gone into them. We would also like to thank the Lochaber Environmental group for their valuable support in getting the project going."
The wood used to make the Potting Station was some of the wood kindly donated to The Men's Shed by the family of the late Bobby Corson an undertaker from Mallaig.
Gordon Gair, from the Men's Shed Group, said: "We were delighted to receive the commission to make the planters and everyone has been busy to make sure the job was completed in time for the planting season.
"Working together on such a project has been a great experience and we look forward to seeing the planters in a few months when they are filled with fruit and vegetables."