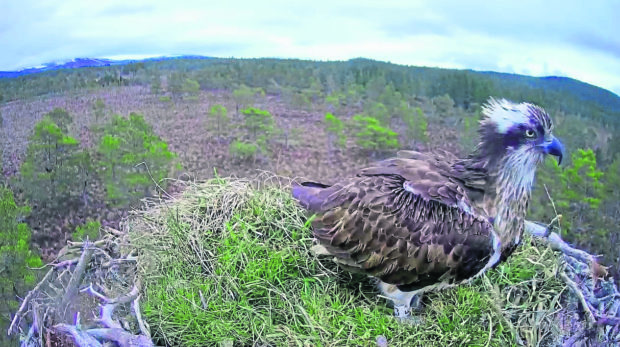 Scotland's oldest breeding female osprey is feared dead after she failed to return to her nest.
The osprey named EJ has been a regular at the RSPB Scotland's Loch Garten nature reserve in Speyside since 2003.
She has fledged 23 chicks since taking over the nest, and was expected to return from her annual migration for a 16th consecutive year.
Reserve staff say there remains a slim chance she will reappear, but the latest she has ever touched down in the past was April 4 and last year she flew in on March 21.
EJ hatched in 1997, and would be 22 years old this summer – more than twice the average lifespan for her species.
Her annual "soap opera-like dramas" have been watched by enthusiasts around the world via the centre's nest-cam.
Jess Tomes, visitor operations site manager at the RSPB's Loch Garten reserve, said: "It's not beyond the realms of possibility that she could still come back, but she's never been this late."
Ospreys migrate to Africa in August and September and return to Scotland for spring and summer, usually in March or early April.
EJ hatched at Bridge of Cally, near Blairgowrie, and produced her first chicks on a nest at Rothiemurchus in Aviemore before taking over the famous Loch Garten nest.
Her long-term partner Odin is believed to have been killed by a rival in 2017, resulting in their three chicks starving to death.
A young male named George provided a new mate for EJ last year, but lost interest in the three eggs amid suspicions he had another nest elsewhere, and he too has also failed to return this season.
Ms Tomes said: "The last couple of years EJ has turned up, I've been amazed at how emotional it has been.
"There are a lot of people out there love EJ. She's part of the fabric of the osprey centre so if she doesn't come back it will be really sad. But she's an old bird and that's the way of things. Not many ospreys reach the age of 21 or 22.
"EJ's had a brilliant run on the Loch Garten nest, but the last couple of years have been really tough for her.
"We never say never. Although traditionally she's been an early bird, who knows what might have held her up.
"I'd like to think if she is spotted elsewhere, we will hear about it."