Shop keepers and local businesses were seriously disappointed when the first "big" cruise ship of the season didn't make it into port yesterday morning.
It was to have been the economic boost Fort William needed after a long winter,  the MV Astoria with her 460 passengers as the first on a busy cruise ship schedule for the west coast town.
But due to "weather conditions" the cruise liner, that was due to pull into town shortly before 5am, and again at 9.45am, and twice at 2.30pm – the sail to the town near to the top of Loch Linnhe was abandoned.
PICTURES: Take a look inside the cruise ship that had to abandon its Fort William stopover
Organisers of town-wide activities said two separate families – who made the trip to town to meet relatives, had to abandon plans for a reunion. The ship had sailed from Poole, England on April 3.
Fort William was bathed in sunlight yesterday and temperatures reached 15C at 1pm.
But at the Corran Narrows, only eight miles from Fort William, there was a northerly breeze.
Fort William Shoreline Company director Sarah Kennedy, spoke for townsfolk when she said how disappointed she was the vessel couldn't make it in.
Mrs Kennedy said: "We are seriously disappointed that the MV Astoria couldn't be with us today. I remember last year when we had our photo on the front page of the Press and Journal, we were so excited that she was here.
"But there was nothing that could have been done, the ship's captain has been in touch with us, to tell us what he is doing.
"It is a real shame she didn't make it in."
John Grant, a former sea captain, who now lives in Lochaber, said: "The Astoria is one of the oldest cruise ships in the UK, and she doesn't have the appropriate manoeuvrability to get through the Corran Narrows on a day like today. She is the wrong ship for that job. "
Mike Hall, head of marketing at Astoria operators CMV said: "We are very disappointed that Astoria was unable to make her scheduled call to Fort William today.
"In spite of several attempts, the weather conditions today prevented a safe passage. The safety of our passengers and crew is always paramount."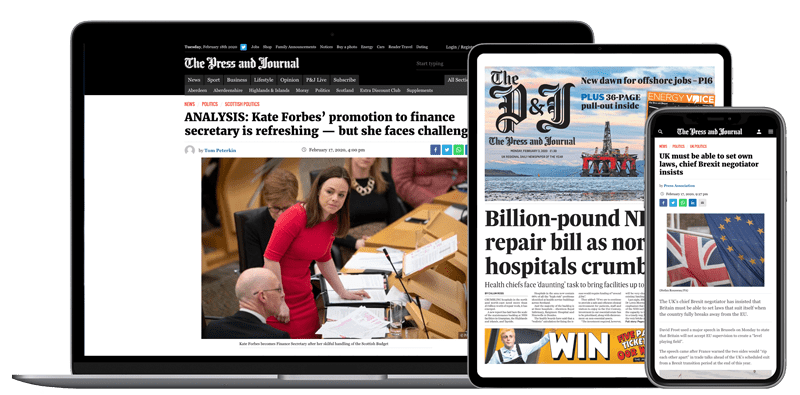 Help support quality local journalism … become a digital subscriber to The Press and Journal
For as little as £5.99 a month you can access all of our content, including Premium articles.
Subscribe