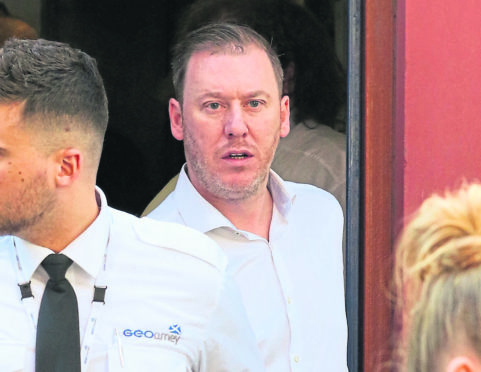 A book-keeper for Scottish sporting estates who embezzled more than £221,000 to fund his gambling and drinking habits in a "gross breach of trust" has been jailed.
Inverness father-of-three Matthew Varley had sole authority to access the bank accounts of certain clients and took the money from them.
But when Varley, 44, left his employers in June, 2015, his successor at estate agents Galbraith easily spotted that he had been duplicating paid invoices and paying the money into his own account.
Inverness Sheriff Court heard that Varley admitted his crime, sold a family home in London and repaid the entire £221.336 from the proceeds.
However the book-keeper, who has since been receiving counselling for his addictions, was jailed for 14 months yesterday after previously admitting embezzling the money between September 2010 and June 2015.
Sheriff Gordon Fleetwood told him: "This was a gross breach of trust which persisted for a five-year period.
"Dishonesty on that scale must merit nothing else but a jail sentence. I cannot ignore the amount of money that was taken or the length of time involved."
Matthew O'Neill, defence solicitor for Varley, of Cranmore Drive, Smithton, had unsuccessfully appealed to the sheriff not to impose a custodial sentence.
He said: "He has done a lot of work to improve his situation and has a new job. He will keep it if he is liberated. No-one has lost out for what he has done."
At the previous hearing last month, fiscal depute Robert Weir told the court that Varley had sole authority to access the bank accounts of six estates, although he had responsibility for 12.
He said that, between October 3, 2011, and June 11, 2015, 106 transactions were carried out where money was transferred from client accounts to a bank account held by the accused and his wife.
He added: "On June 12, 2015, he left CKD Galbraith and shortly afterwards the discrepancies were identified."
Mr Weir said entries were recorded on the company's accounts system but had no supporting paperwork. The details of the accounts the money had been paid into had also been deleted. The court was told that the siphoning of funds began with as little as £30 but rose to £5,000.
He added that fictitious invoices had been inputted to the accounts software.
"Inquiries with the Royal Bank of Scotland to identify the beneficiary account showed it was not linked to any estate supplier. But the details of the account holder were not provided by the RBS and Galbraith later craved a civil warrant to identify that the account was held by the accused." Mr Weir added.
The court heard that when Varley was challenged by Galbraith, he stated that he was responsible for carrying out the transfers, attributing it to his gambling and drinking problems, as well as depression.
Varley was reported to police in December 2015, but it was 17 months later before he was charged.
Pam Over, chief executive officer of Galbraith, said after the sentence: "This person admitted committing a serious crime against our firm. We discovered the theft, reported the matter to the police and provided every assistance during their investigation.
"Five clients were affected – two of them our direct clients and three others who were clients of a sporting management company to which we were providing a book keeping service at the time.
"We ensured that all five clients were reimbursed in full as quickly as possible given our employee was the person who embezzled the funds. As a long-established firm, we naturally regret this isolated incident by a rogue employee."