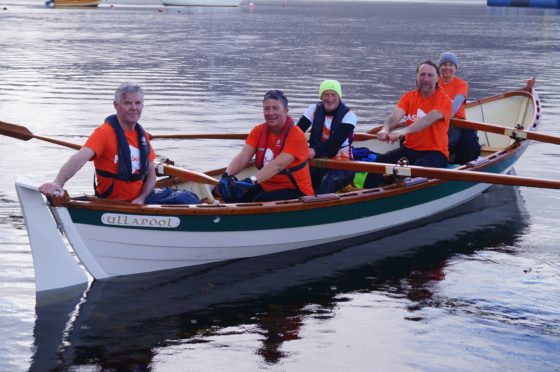 They have a combined age of 292 and between them boast backgrounds in dance, writing and scallop diving – and even a department store Santa.
This team of hardy rowers have begun preparations for a 15-hour, 50-mile unaided row across the Minch to raise money for charity.
The crew will pilot a 22ft St Ayles skiff from Stornoway to Ullapool this summer in aid of the MS (Multiple Sclerosis) Society Scotland and believe, if they are successful, that they will be the first team to do so.
The team have rowed together competitively for four years, but this challenge is much bugger, requiring an estimated 22,600 strokes to pull them from the port in the Hebrides to the mainland.
Kathryn Bennett, John Grant, Gary Lewis, Anthony O'Flaherty and Lorraine Thomson will rotate as a crew of four rowers and a cox roughly every 45 minutes as they take to the open water.
Ms Thomson said: "We know that this part of the world has one of the highest rates of MS anywhere and we wanted to do something to raise funds and awareness of the condition.
"It's our way of showing support, not only for those who have been diagnosed with MS but also for the people who care for them."
This is a personal challenge for the crew who have friends and family members who have been diagnosed with MS – and they are also aware of the high prevalence of MS in the area.
Northern Scotland has one of the highest rates of MS in the world and the MS Society is currently funding 59 research projects across the UK to find more – and better – treatments for people living with the condition.
John Grant completed the Rowing the Minch For MS indoor rowing marathon in 3 hours 35 minutes and 6 seconds, Lochbroom Leisure Centre, 16 March 2019.

Posted by Rowing The Minch For MS on Friday, 22 March 2019
The crew will navigate using GPS as part of an unassisted effort, leaving Stornoway at 4am and arriving around 7pm should all go to plan.
Morna Simpkins, director of MS Society Scotland, said: "This is a truly incredible challenge to be taking on and we wish the crew the very best of luck in their preparations.
"Our supporters never fail to amaze me with their dedication and imagination in setting up and completing some amazing feats.
"More than 11,000 of us in Scotland have MS and people raising funds and awareness is a crucial part of the fight to stop it in its tracks."
Minch by numbers
15 – The number of hours the crossing will take
50 – The length, in miles, of the journey
292 – Combined age of the rowers
22 – Length, in feet, of the skiff St Ayles
22,600 – The estimated number of oar strokes needed
11,000 – The number of people (at least) with MS in Scotland