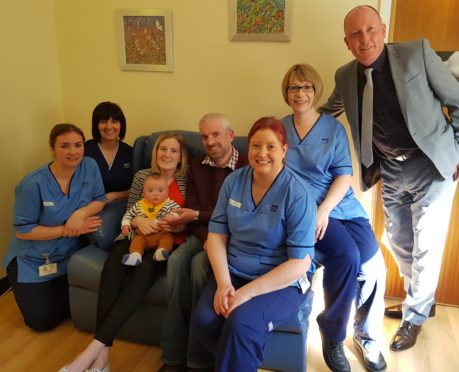 A couple have returned to hospital in Inverness with their seven-month-old son to thank staff for their "amazing care" following his birth.
Robert and Hannah Toohill's son Fraser was born in September last year, 11 weeks premature, before being transferred into the care of staff at the city's Special Care Baby Unit (SCBU).
Just three weeks following his birth, his mother was diagnosed with Multiple Myleoma, a rare and currently incurable form of blood cancer.
Now seven months on, the family from Dingwall made a triumphant return to the unit to thank staff for their unwavering support during what they describe as a "devastating" time.
Mr Toohill said: "We wanted to give something back to the unit that would help them as they helped us so much as a family. We were so well looked after by the team and that allowed us to be there for our son and each other.
"When Hannah was diagnosed with Multiple Myleoma so soon after the shock of Fraser being born so early and being in SCBU it was devastating. If it wasn't for the amazing care and support everyone at SCBU gave to our family I really don't know how we would have coped with everything. It was great to see so many familiar faces in the unit today. We will be eternally grateful. They really are angels."
Mrs Toohill currently works at Jeff Clark Thomson which remains a member of the Insurance Institute of Inverness, the Highlands and Islands.
In order to give something back, she nominated SCBU as the organisations chosen charity raising more than £2,200 for their cause.
Chris Smith, president of the institute said they were delighted to be able to support the unit.
He said: "Hannah is one of our members and I knew she and her family had fantastic support from SCBU over the last six months so we more than happy for the fundraising proceeds of £2200 from the dinner and raffle to be donated to the unit.
"We are thrilled we've able to support them after everything they have done for Hannah, Robert and Fraser."
The unit are intending to use the donation to purchase additional Kangaroo Care Chairs, which recline and allow parents to lie for a long period of time with their baby, promoting vital skin to skin contact.
Mary Law, senior charge nurse for the unit added: "It's always fantastic when we get to see our graduates. Meeting Fraser again and to see that he is thriving was just lovely to see. We remember the family well and really can't thank them and the Insurance Institute of Inverness, the Highlands and Islands enough for this donation."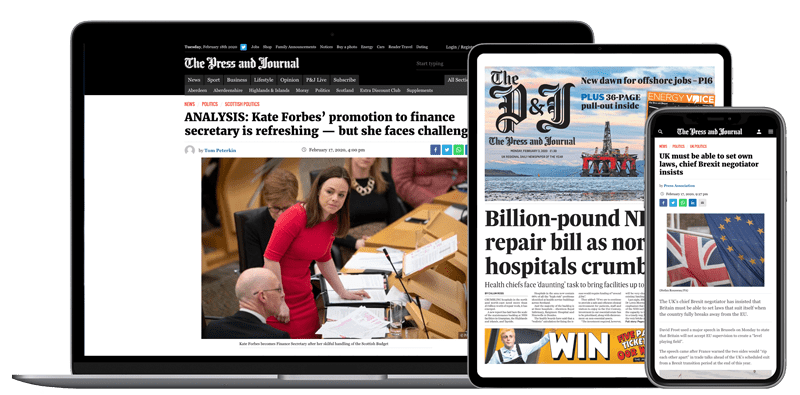 Help support quality local journalism … become a digital subscriber to The Press and Journal
For as little as £5.99 a month you can access all of our content, including Premium articles.
Subscribe