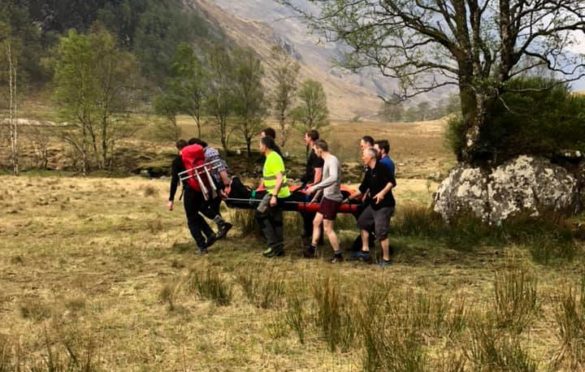 The woman was injured near Steall Falls in Glen Nevis.
Rescue teams were called to the incident at 4pm this evening.
The woman had reportedly slipped from a large boulder and tumbled into the churning river at Steall Falls.
A police spokesman said: "Lochaber Mountain Rescue mobilised and a rescue helicopter was sent out to trace the woman.
"At around 6pm the helicopter successfully extracted the woman from the water."
Busy shift so far with Winch training to @BoskalisNL #BokaFalcon followed a little later with tasking to assist @LochaberMRT at #SteallWaterfall, #GlenNevis. #Rescue951 #InvernessSAR 🚁 pic.twitter.com/z1t3RVHjfI

— Rob Glendinning (@glendog74) April 24, 2019
The woman was then taken by ambulance to Belford Hospital, with injuries to her hip and pelvis.
Just hours later teams from Lochaber Mountain Rescue were deployed to the Ben Track on Ben Nevis, after receiving reports that a woman had suffered a leg injury.
She was rescued from the walking trail and taken to hospital by 10.24pm, where it was found she had a fractured ankle.