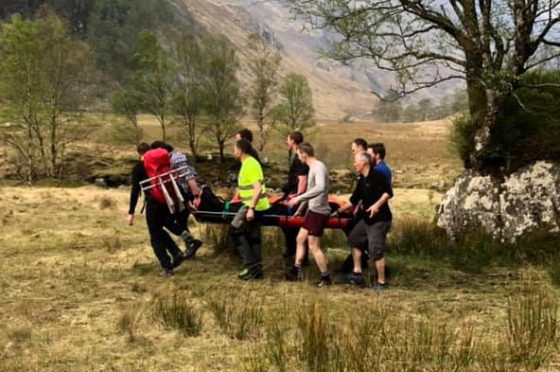 There was no rest for Lochaber Mountain Rescue Team as members were called out to back-to-back incidents to assist two casualties suffering injuries around Ben Nevis.
The search and rescue team had only just left for home on Wednesday following the conclusion of one incident near Steall Falls at the base of Ben Nevis when they were immediately called again to scale part of the famed mountain to assist another injured casualty.
Team leader John Stevenson said: "Initially we were called to Steall Falls where a man had fallen on a large boulder. We weren't sure if they were in the gorge or in the falls so we mobilised team members and when we got there he was actually at the bottom of the waterfall. We were told he was in the water but his mates had managed to get him out.
"He had badly damaged his right hip so we packaged him up. We had already called for a helicopter so we handed him over to them where he was taken onto the Belford in Fort William.
"Overall it was really straightforward."
He continued: "Just as I was about the leave the station, the other guys had gone home; a call came in for a second job.
"A lady had slipped on the Ben track and damaged her ankle. The group she was with had strapped her up and tried to get her down the hill but she was unable to load bear and that's when we were called.
"She was around the 1000ft mark so we stretchered her down to a waiting ambulance and she too was taken onto the Belford Hospital.
"Our team worked really well but these are some of the jobs our teams expect."
The condition of both casualties was unknown yesterday.