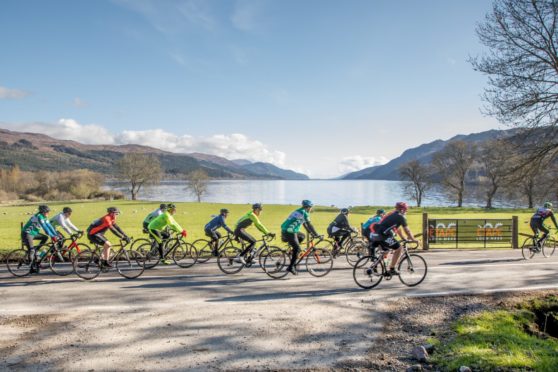 A male cyclist is in a serious condition in hospital after collapsing during this year's record-breaking Etape Loch Ness.
The casualty set off on the 66-mile course around Loch Ness around 6.15am before falling ill. He was treated by paramedics, prior to being rushed to hospital.
A spokesman for Etape Loch Ness said: "We can confirm that, during today's event, a participant received emergency treatment from paramedics after becoming unwell.
"The male rider was treated on the course and later transported by ambulance to hospital, where his condition is described as serious.
"We would like to thank all who helped at the scene until the emergency services arrived, and the paramedics for their assistance.
"Our thoughts are with the rider, his family and friends."
Thousands of spectators lined the streets along the route, as more than 5,600 cyclists conquered the world-renowned course.
Routes across the city and beyond were closed off to traffic to give riders the freedom of the road. Lewis Macfarlane from Moray First Cycling established a new course record with his staggering time of 2 hours, 45 minutes and 56 second; almost three minutes faster than last year's winner Andy Cunningham.
Meanwhile, the fastest female rider was Alison Leitch of Orkney Cycling Club, who also achieved a new course record with her time of 2 hours, 55 minutes and 13 seconds.
During the award ceremony, accolades were presented to the King and Queen of the mountain, in recognition of the riders who conquered the 4.8 mile climb up Glendoe in the quickest time.
Mrs Leitch claimed her second title of the day after completing the ascent in 25 minutes, 59 seconds.
Meanwhile, last year's winner, Mr Cunningham was crowned King of the mountain for a second year running with a time of 19 minutes, 5 seconds.
Event director Malcolm Sutherland said: "A huge well done to all the riders who took part in this year's event: it was a fantastic demonstration of a true passion for cycling."
Cancer charity Macmillan Cancer Support, which provides vital support to individuals affected by the disease,  was selected by organisers as the event's chosen charity for the second year running.
Laura Seath, 30, a carer from Oban was among the spectators cheering on her partner Scott Livingston. She said he decided to take part in the event in memory of a colleague, who died of cancer last year.
She said: "Six or seven of them from work are doing it in memory of their colleague who passed away from cancer just before Christmas. When we found out Macmillan was the sponsor, it all fitted together nicely."
There was general praise for the way the event was organised as participants travelled from far and wide to tackle the gruelling challenge.
Andrew Smith, 40, a surveyor from Edinburgh said: "It's been a nice day. It's a good location, the scenery around is so lovely, and it is very family orientated.
"It's one of the best cycling races around."