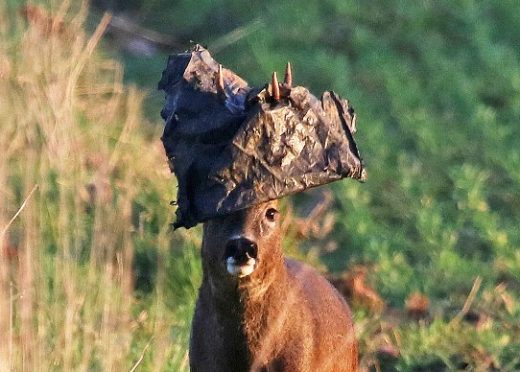 A roe deer buck found "blundering about" Highland woods with a black bin liner stuck in his antlers and over his eyes has again highlighted the problem of plastic pollution.
The latest incident follows the death last year of two red stags who became entangled in discarded rope on a beach on the island of Rum.
Amateur photographer Patricia Davies captured the image in Auldearn, near Inverness Airport, during the early hours of Saturday.
The 62-year-old from Auldearn said: "Sadly, it seems that plastic pollution has reached us even here in northern Scotland.
"This hapless roe deer buck had liner attached to his antlers. There was nothing I could do about it- it simply blundered about back into the woods again.
"I know they like to decorate their antlers, but obviously this is rubbish which should not be lying about.
"The liner was tangled in his antlers and covering his eyes at times. He was just blundering about.
"It would be difficult for him to remove it himself, but I hope he has been able to do so.
"It just highlights the ongoing problem with plastic pollution."
Mark Wrightham, of Scottish Natural Heritage, added: "It's always sad to see litter having a negative impact on wildlife.
"It's important that we all do our bit to reduce the amount of litter in the outdoors and even small actions can make a big difference.
"In order to keep our countryside as we would all wish to find it, we would urge everyone to take away all litter.
"Plastic bags, bottles or cans can cause severe injury or death if eaten by a wild animal so it's really important to leave no trace when out and about in nature."
MSP Kate Forbes, who has led the Final Straw campaign against the use of plastic straws, said: "This image will tug people's heartstrings once again but will it change our behaviour?
"No plastic waste is generated in a vacuum and it unfortunately does strangle wildlife, spoil the scenery and give us all a massive problem to deal with.
"There's been some great initiatives to phase out plastic waste but there's always more we can do together."
Last year, heartbreaking pictures of dead red deer on the Isle of Rum and a proud stag with his antlers wrapped in old fish net were revealed by Scottish Natural Heritage.
Scottish Natural Heritage, who manage the Rum National Nature Reserve, published the photographs to highlight the devastating effect waste is having on nature.