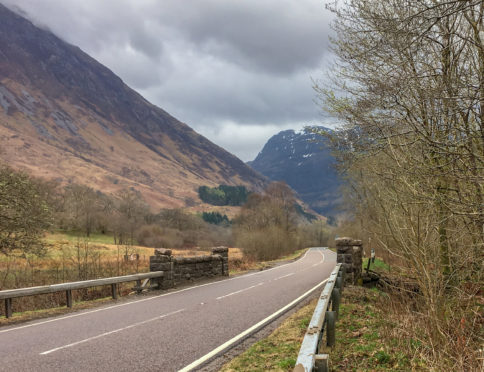 An accident hot spot in the Highlands is due to be upgraded and the road widened in a £1.5 million project.
Due to salmon spawning season, however, work will be carried out in the busy summer months.
From Monday, a temporary two-way bridge on the busy A82 Fort William to Glasgow road at the Allt Fhiodhan Bridge, Glencoe, is being set up while the six-month-long works take place.
The Bear Scotland project, commissioned by Transport Scotland, will involve the replacement of an existing sub-standard bridge.
A reduced speed limit of 30mph will be implemented and traffic lights will be used to control the flow of traffic whilst the temporary road is constructed.
A spokeswoman for Bear Scotland said: "The existing bridge is in poor condition and showing signs of continuing deterioration, meaning that it needs to be replaced for the safety of road users.
"The replacement structure has been designed to last for 120 years, with the structure widened by 20ft in total.   Safety barriers will also be installed to  improve road user safety.
"The new structure will be wide enough to incorporate a footway and the existing footpath from the Glencoe Visitor Centre and nearby camp site to Glencoe Village will be realigned over the new bridge.
"The materials that have been selected for the new structure will assist in minimising future maintenance requirements.
"Once complete approximately 1,200 tonnes of rock armour will be installed around the new structure to protect the foundation and the river banks from any potential wash-out during high river flows."
The project needs to be carried out through the summer months to avoid any disturbance in the stream during the sensitive salmon spawning season later in the year.
Commenting on the project, Eddie Ross, Bear Scotland's North West Representative said: "The new bridge will mean a stronger, wider, reliable structure for years to come along the route, with a new footpath alignment installed for pedestrians travelling between the Glencoe Visitor Centre and nearby campsite to Glencoe village."