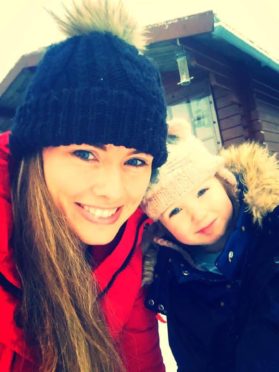 A Highland mum is to abseil down the side of a "fairy-tale castle" to raise cash in recognition of her daughter's life being saved.
Susan Andrew, 35, from Thurso, will scale down Dunrobin Castle on May 25 in honour of her three-year-old daughter Lois, who was born five weeks premature and weighing just 4lbs 3oz.
The "miracle girl" was initially in Inverness' Raigmore Hospital' special care baby unit (SCBU) unit before being flown by air ambulance to Glasgow's Children's Hospital with oxygen problems – leaving the parents unsure if she would survive.
As the youngster continues to defy the odds, 35-year-old primary school teacher Susan is eager to give back to those who helped save her daughter's life by raising hundreds of pounds in donations for the unit's official charity, the Archie Foundation.
She said: "The presence of Archie is felt every day as you walk in the front door.
"I was amazed by the garden at the ward and seeing other children there benefitting from it.  Even as a parent, you noticed the benefits with the toys and bright colours of the ward – it made a difference.
"Since Lois's time in hospital I've always wanted to give back to the hospitals who have helped her."
The mother of two has so far raised more than £400 for the children's charity, which remains close to her heart.
During the one-day event, Mrs Andrew will be cheered on by her husband Stuart, her daughter Lois and seven-year-old son Ethan – as she descends the 13th century castle dressed as Super Woman.
With less than three weeks to go, she said has been "truly touched" by the level of support people have shown towards her.
She added: "I've had lots of encouragement from lots of friends and family who have pledged their support.
"I don't have a target in mind but I'd be really happy if I can get over £500. I am really grateful for the messages and donations I've already received."
Dawn Cowie, Archie Highland fundraiser, said: "Hearing Susan's story is so touching and we are honoured to have the continued support for the work we do at the Highland Children's Unit.
"I'm sure Lois will be proud watching her Super Mum come down the side of the castle – which is absolutely gorgeous!
"There are not too many places left, so I'd encourage anyone interested in the challenge sign up as soon as possible and start raising money for sick children in the Highlands."
To donate to Susan's fundraiser, click this link.