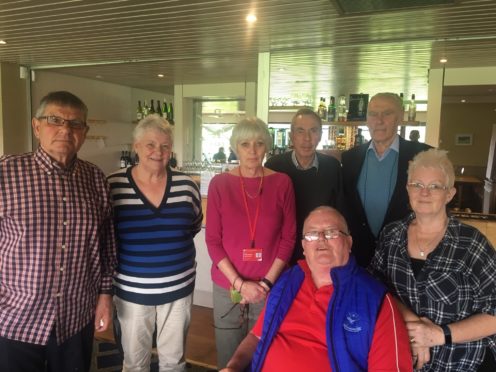 Veterans with sight loss have the chance to make new connections through a number of lunch groups across the Highlands and Moray.
Vision impairment charity Scottish War Blinded offers these groups to members across the country as it fights to tackle social isolation of veterans with a vision impairment.
The charity says many say they have experienced loneliness as a result of their sight loss.
Scottish War Blinded is welcoming its veterans to monthly meet-ups which currently take place in Inverness, Tain, Nairn and Elgin.
The charity's members, who all have a vision impairment, can go along to meet fellow veterans for a friendly chat over a spot of lunch, provided free-of-charge.
Scottish War Blinded Outreach workers Sheena Menzies and Mick Hilton run the lunch groups and provide one-on-one support.
Sheena said: "The Scottish War Blinded lunch groups provide a friendly, relaxed environment for our veterans to get to know one another, share stories, have a laugh together and build friendships.
"Many of our veterans also live alone, so the meet ups are particularly important, providing a great opportunity to make some new connections with others.
"We have lovely members who regularly attend our monthly groups. If you're a veteran with sight loss, or you are a relative, friend or carer of someone who is, we'd love to hear from you."
Mick added: "Carers and partners are also very welcome to accompany members to the lunch groups – it's a fantastic way for them to meet others and have a bit of a break, too.
"We also occasionally welcome guest speakers, such as members of the Scottish War Blinded rehabilitation team, who can provide helpful tips and expert advice to our veterans."
Research carried out by Scottish War Blinded last year showed that two thirds of Scottish War Blinded members said their sight loss had resulted in them experiencing loneliness.
They said access to the charity's services played the greatest role in helping them overcome social isolation.
Director Rebecca Barr said: "Our lunch groups are important social events for many veterans across the country. We have seen many friendships flourish as a result of members being brought together at these monthly meet-ups."