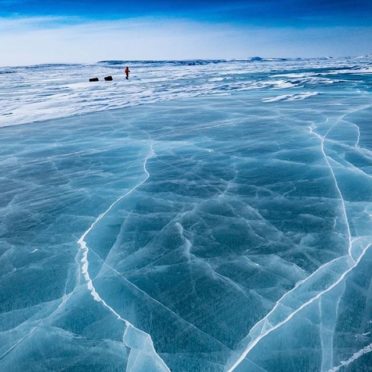 They were forced to endure extreme conditions and temperatures as low as minus 50, while two of their four-strong team had to withdraw because of foot injuries.
But yesterday, Scottish duo David Reid and Richard Smith returned to the former's home in Ottawa after completing their Arctic Return expedition, which saw them follow in the footsteps of the remarkable Orkney-born explorer, Dr John Rae.
The intrepid pair revealed that a part of the Arctic now has a special link with the Scottish islands after they carried flags, designed by schoolchildren at Stromness Primary and St Margaret's Hope Primary on Orkney, to the end of their epic journey at Point de la Guiche, which was pinpointed by Rae as the missing link when he discovered the first navigable North West Passage back in 1854.
It took the team 29 days to complete the 404-mile trek, during which time they were battered by blizzards and a ferocious wind chill which sent the temperature plummeting to -50 degrees.
Mr Reid told the Press and Journal yesterday he had sustained finger damage and a couple of his toes are "out of commission", while filmmaker, Garry Tutte and adventurer, Frank Wolf were unable to complete the gruelling journey.
He said: "It was incredibly cold and even the Inuit were commenting on the chill.
"We had to be aware that if anything went wrong, we were in trouble, but we had satellite phones and a GPS tracker and these devices gave us a wee bit of a mental safety net.
"Rae had none of these things, and if we admired him before this expedition, we are even more in awe of him now, because the scale of what he achieved was amazing.
"It was unfortunate that Garry and Frank didn't complete the trip, but I had to think about their safety and the bigger picture.
"When you are in the middle of nowhere, you can't afford to make bad decisions and we had to request assistance.
"I have been involved in large-scale expeditions in the past, but this was a major undertaking.
"We thought we were doing well travelling 12-13 miles a day, but Rae managed 20-25 miles and my admiration for him knows no bounds, not least in terms of his physical stamina and perseverance in going into uncharted territory."
Mr Smith, a former Royal Marine, will travel home to Edinburgh today, while Mr Reid is visiting his homeland next month, journeying from Oban to Aberdeen via Orkney.
He added: "The work starts now on the book to help highlight the John Rae Society's work on the restoration of Clestrain Hall [the explorer's birthplace on Orkney].
"We also received a letter from Scottish Government minister Fiona Hyslop before we set off, wishing us well, and I think that establishing Scotland as an Arctic-related nation is one of the government's objectives.
"I support that idea and there is no doubt that John Rae would be at the heart of any such initiative.
"He really was an extraordinary figure."