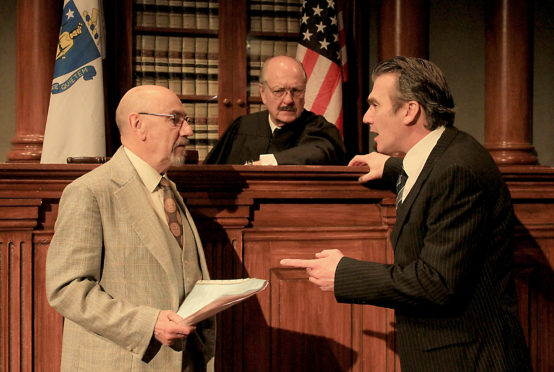 A washed-up, alcoholic lawyer, a David and Goliath-style medical legal challenge ravelled up with plenty of scheming, cover-ups and filthy lucre-  the perfect dramatic storm created by Barry Reed in his book, The Verdict.
Many will remember the powerful performances of Paul Newman and James Mason in Sidney Lumet's five times Oscar nominated 1982 movie of the same name.
The stage play is in circulation once again, with Middle Ground Theatre Company now in the second tour of their production, presenting The Verdict at Eden Court's Empire Theatre until Saturday.
The shine has gone off Frank Galvin's career (Ian Kelsey). In a last ditch attempt to redeem it, and himself, he takes on a medical malpractice case in which a young woman lies in a vegetative coma after being wrongly administered anaesthetic and choking on her own vomit.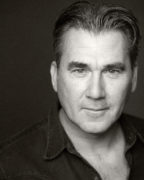 He turns down a substantial settlement from Bishop Brophy from St Catherine Laboure Hospital where the tragedy took place and without consulting the family decides to take the case to trial in the hope of a much bigger financial prize, to outcry from all sides.
Conniving and duplicity ensure that nothing goes right for Frank until he finds a star witness with information which ultimately turns the trial in his favour.
The detailed sets draw you straight in to this production.
Against a snowy backdrop of Boston 1980, Galvin's seedy office is complete with pot plant evidently thriving on watering with mouth wash Galvin uses to disguise his boozy-breath from clients, while over the road, lies the beguiling warmth of Meehan's bar, presided over by Michael Lunney (also the show's director and designer) as Eugene Meehan.
Kelsey, familiar from numerous TV roles, doesn't overplay Galvin's jaded character to the extent that there's little light and shade in his performance, though his presence and stage business cleverly hints at the promising attorney he once was.
Anne Kavanagh as Mrs McDaid, mother of the afflicted young woman at the heart of the story appears early on and powerfully sets the scene of helplessness, frustration and grief surrounding her daughter Deborah Ann, but if emotion in the production was overall a little threadbare, it was filled in to great effect by the sound track, mournful versions of Irish folk tunes, such as  She Moved Through The Fair.
The fragility and vulnerability of Irish emigre society is never far from the surface in the melting pot Boston community in which Galvin carries out his dark arts.
'Show don't tell' is the modern mantra for writers, but it's the other way round in this adaptation.
Margaret May Hobbs' adaptation is wordy, very wordy, with some scenes that seem designed only to explain to the audience what certain medical terms mean, or how court rooms work.
In 2019, after decades of medical and legal dramas, we mostly know that stuff already, and they made the show long, so that when the court room battle finally came, it felt rushed.
The courtroom set is perfect, and the trial unfolds with that authentic mix of procedure and barely veiled hostility which seems to pervade all courts.
I wanted defending attorney J.Edgar Concannon (Christopher Ettridge) to be more threatening and sinister in this scene, and Galvin to sweat his risky roller coaster ride much more, but the proceedings on both sides ended up too rushed to allow tension and drama to build to breath-holding proportions.
The audience occupied the place of the jury, so the actors could have turned and made their appeals directly to us with passion and persuasion, relishing their words, shamelessly manipulating their captives in the jury box, but they seemed reluctant to do so.
My sympathetic co-audience sought humour in the play and found it in surprising places. They stayed with The Verdict all the way and loved the reward of Frank's victory and come-uppance to his treacherous love-interest at the end.