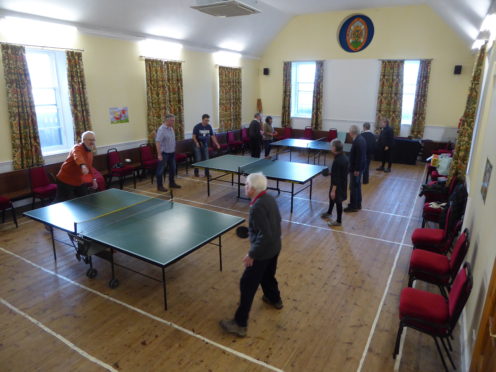 An innovative community care project is currently deploying an interesting and fun way to stave off the onsets of dementia – through offering elderly folk a weekly fix of table tennis.
The Cromarty Care Project invites all members of its community to meet at the West Church Hall each Monday, for 90 minutes of – sometimes – intense games across three full-size tables.
The project has been brought together on the basis of research carried out linking the use of table tennis to bat off the onsets of dementia, by forcing players to react quickly with high-level motor coordination.
The Cromarty Care Project introduced the pilot drop-in scheme back in October and due to popular demand have now extended to extend the scheme to continue each Monday.
Dr Simon Evans, a retired physician who previously worked at Raigmore Hospital, has brought the project together under the auspices of the Cromarty Care Project.
Dr Evans said: "It is just great fun.
"We have around four people who come who do have a cognitive impairment, but most that do come do not.
"We mainly get older people coming along, people who are aged 50 and over, but we do have several people who come who are in their 80s. Everybody just loves it.
"It is fun and can be competitive, but most people come for the enjoyment rather than to win."
Upwards of 10 people attend on a regular basis, however, at the peak of its interest, around 25 members of the local community have been known to attend.
Dr Evans added: "We were planning to stop at Easter time but due to popular demand we are planning on carrying on. The only complaints we have really had are about my illegal serving!
"The biggest challenge is stopping frail people from retrieving stray balls from behind furniture and overstretching when they don't need to.
"It is very sociable and we rotate who everybody plays with on a regular basis, so you get to know people you may not have known before.
"It is always a great laugh and we all get together to enjoy a coffee afterwards."
Ruth Mantle, a dementia nurse consultant with NHS Highland, said: "With no cure on the horizon it's important to support people to live well with dementia and focus on enhancing their quality of life and wellbeing.
"Supporting people with dementia to remain active is essential to maintaining wellbeing, help them stay connected, reduce ill health and help maintain independence."