The Flying Scotsman arrived into the heart of Inverness last night following a spellbinding journey along the Highland Main Line.
More than 250 passengers were on board the iconic steam locomotive on the captivating journey from Scotland's capital.
The train crossed the Forth Road Bridge and steamed through the Cairngorms before reaching Inverness shortly after 7pm.
The journey marks the Flying Scotsman's second trip to the Highlands during its 96 year existence.
The 184 mile journey was provided in collaboration with The Steam Dreams Rail Co and Riley's Engineering – custodians of the Flying Scotsman.
Marcus Robertson, founder of Steam Dreams, was travelling as a passenger along with his wife.
During a brief stop in Kingussie, he spoke about the journey and how iconic programmes such as Harry Potter have left a prominent place in history for these engines.
He said: "It's fantastic. It's a shame that the weather has not been a little bit kinder but at least when we were up the top in the pass there was a bit of snow on the ground at rail level.
"Obviously Harry Potter, the Hogwarts Express and Glenfinnan Viaduct has recreated a lot of interest and also Thomas the Tank Engine of course for small children.
"We love coming to Inverness it's a great place."
On board train manager Richard Foster said the journey had been a "joy".
He added: "The whole thing is a joy, the whole operation; travelling on the train, the performance of the locomotive and the beautiful countryside of which you are passing through. It's absolutely stunning."
Among the 60 crew members on board was firemen Calum Titley, 27, and Tommy Macdonald, 22, both from Aviemore.
The young lads, both grew up in the Strathspey area, devoting years of voluntary service to the Strathspey Railway before becoming drivers.
And they spoke of their pride at bringing the locomotive north to their hometown.
Mr Titley said: "This is my life. This is what I have done all my life and you can't get any better than this in my books.
"The prep that goes into these engines is huge plus getting all the fire in, I mean I dread to think how much coal I have gone through.
"It's a fairytale. If you told me when I started at Strathspey at the age of 13 that you would go past that engine shed through platform one as a fireman I wouldn't have believed you."
Meanwhile, Mr Macdonald added: "This is the icing on the cake, especially with both of us starting off in Strathspey young and with the Flying Scotsman we have come through our home patch."
Readers have also sent in their pictures and videos.
This video was captured off Golf Course Road, Newtonmore, by George Gordon.

These images were taken by Simon Packman at Culloden Viaduct.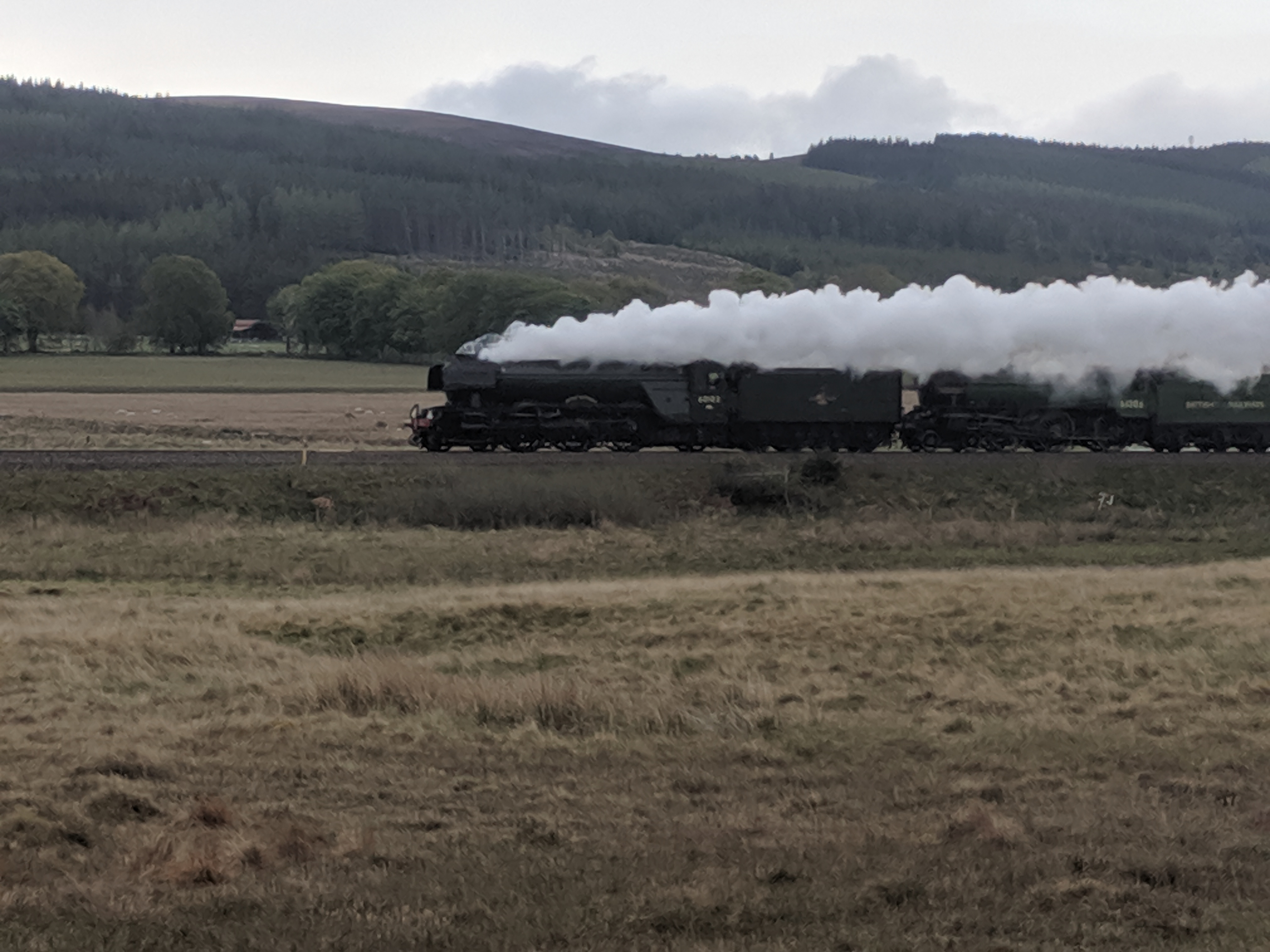 Martin Soutter captured this photograph of the famous locomotive when it passed Moy