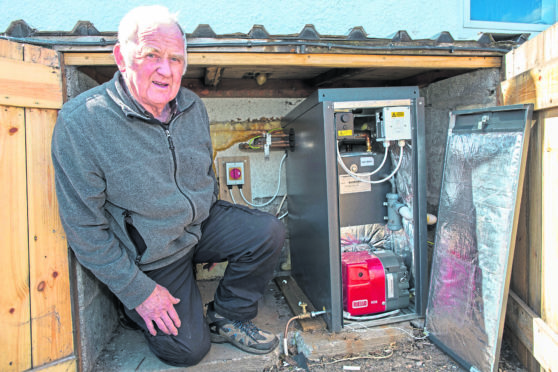 An MSP has pledged to increase his efforts to help a family who are heavily out of pocket after being encouraged to have a government-backed boiler fitted in their home.
Sidney Campbell, from Strathie, near Thurso, signed up to a free UK Government-backed boiler scheme, and was awarded funding in November 2o17, because his disabled daughter is living at home.
But, more than a year later, the boiler still doesn't work correctly and he has not been paid back money he invested in getting it repaired.
The Caithness man insisted all he wants is a refund for the money he is owed – £400. But the firm which supplied the boiler, Ecotech Scotland, has gone into liquidation.
Mr Campbell said: "Ecotech Scotland fitted a new oil-fired central heating boiler, but after they did the work, we had to have it fixed.
"The controller for the boiler wan't working. We spoke to the company, and they said, in writing, to get a local sparkie, and they would repay the money. "
When the electrician came to the house, there were a number of problems with the boiler, including no frost start, and no isolation switch outside the house.
When he went back to the company for the cash, he was told they were in liquidation – so he approached his MSP Dave Stewart.
The latter said: "It appears that Mr Campbell, through no fault of his own, has been left heavily out of pocket under a scheme which is supposed to help people cut their energy bills, not increase the amount they have to pay.
"Ofgem seem powerless to help and the Scottish Government can't step in because his boiler was installed under a UK Government scheme.
"I will redouble my effort and try to contact the UK Government and trading standards to see if they can help recoup Mr Campbell's losses. It seems unfair that Mr Campbell should foot the bill. Someone should be held responsible."
A spokesman for the UK Government said: "If the consumer hasn't found redress through the installer, they would then need to go to the energy supplier, training standards or Citizens Advice."
Ecotech Scotland was approached for a comment.