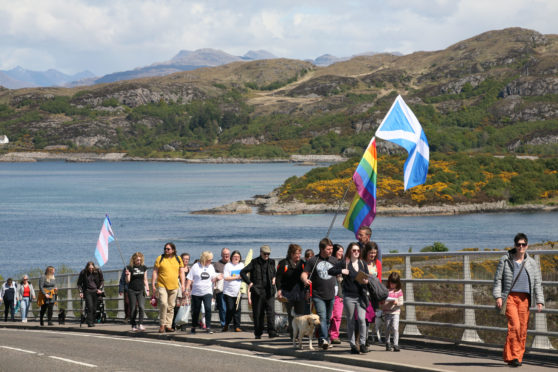 About 100 people marched over the Skye Bridge at the weekend in an effort to "break down" the stigma surrounding mental health.
The walk from Kyle of Lochalsh over the bridge took place on Saturday, and was organised by local charity RagTag in recognition of the Scottish Mental Health Arts Festival.
The group was joined by members of the Creativity in Care, Hug – Action for Mental Health, Mikeysline and Befrienders Highland groups for the walk.
Sarah Berry, tutor at RagTag said: "If we can be there doing events like this which is fun for everybody but also showing a presence, it means when people aren't going through a good time, they know we are there, they can find us and get some help sooner rather than later.
"The theme for this year's Scottish Mental Health Arts Festival is connected, so it was fantastic visual metaphor for things. The Skye Bridge connects the mainland to the Isle of Skye and by walking across the bridge we are showing we are all connected to each other and we all depend on each other for support.
"If we can show each other support in events like this, then it breaks down a lot of the stigma's and shows that we are all connected. There doesn't need to be any stigmas with mental health."