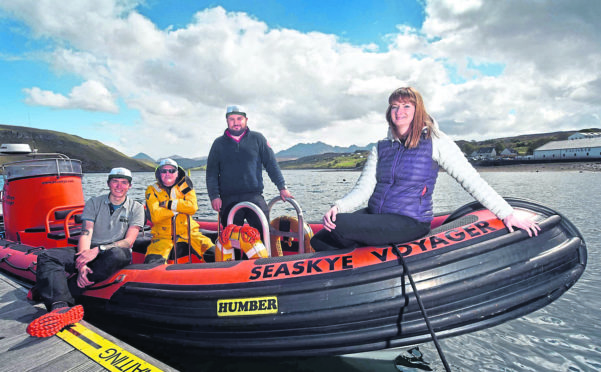 A Skye marine tourism firm plans to expand and create jobs after securing more than £36,000 from Highlands and Islands Enterprise (HIE) for a new vessel to run trips to St Kilda.
SeaSkye Marine Limited was established by Kenneth and Kerry MacKinnon in 2017. It already runs trips from Waternish to St Kilda, under the Go To St Kilda brand, as well as shorter, more family orientated trips around Skye from Carbost.
HIE has awarded the company a grant of £36,910. The money will go towards the cost of upgrading the vessel used for the St Kilda trips from a 36ft vessel to a 43ft one.
The larger boat will be more robust and less susceptible to weather-related cancellations. It will allow Go To St Kilda to schedule six trips a week instead of three or four.
The original vessel will then be used to expand the company's offering by adding trips to Harris and the Shiants.
The changes are expected to boost the company's turnover by more than £240,000, increase international sales by more than £95,000 and create four full time equivalent jobs.
Eilidh Ross, business development account manager with HIE on Skye, said: "Marine tourism generates more than £350m for Scotland's economy, with potential for further substantial growth.
"SeaSkye Marine is an important part of the wider tourism offering on Skye. The directors have made excellent progress with the company while keeping a keen eye on the future. This planned expansion is the next logical step for the company and we are very pleased to be able to provide support for that."
Kenneth MacKinnon of SeaSkye Marine added:"We're really pleased to have secured this support from HIE, enabling us to take the next step in expanding our business. Demand is certainly growing from people who are keen to explore further afield while visiting Skye.
"St. Kilda has massive appeal, due to its culture history and international recognition for nature. It's great to be able to schedule more trips to the archipelago with confidence, and to also offer the additional attraction of trips to Harris and the Shiants."
St Kilda, 41 miles off the main Outer Hebrides, is a double world heritage site and one of the most important seabird stations in the North Atlantic.
The largest island, Hirta, is home to a MoD missile monitoring station – tracking weapons test fired from the Hebrides Range on the Uists.
In April 2016 the last indigenous resident of St Kilda, Rachel Johnson, died.
The last 36 native islanders were evacuated in 1930, ending thousands of years of continuous habitation of the islands.