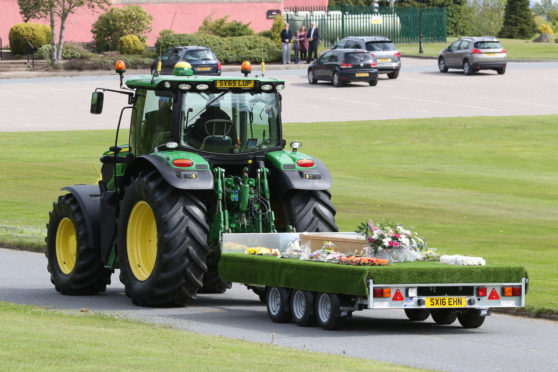 Dozens of members of the farming community came out to honour the wishes of the family of a tragic father killed when a car fell on top of him.
Around 30 attendees gathered in agricultural clothing yesterday to pay their final respects to Murray Oman, as the much-loved farmer was taken on his final journey to Inverness Crematorium led by a tractor and trailer carrying his remains.
Highland father killed after car he was working on fell on top of him
Those attending were asked to wear clothing in fitting with the farming community, including checked shirts and boiler suits, for the funeral of the 37-year-old as opposed to the traditional funeral attire of black dress.
The procession, led by the tractor and trailer, was made possible after the family issued an emotional appeal to have members of the agricultural community assist in Mr Oman's send-off.
Mr Oman, who had worked on many farms throughout the UK, was most recently employed in the Darnaway area near Forres, where the tragic accident occurred.
The farmer had been working on a vehicle before it fell on him, crushing him as he lay underneath.
Medics rushed to the scene in a desperate attempt to save the father, but he could not be saved.
Mr Oman, alongside his wife Nakita and their two sons, had only recently moved to the Fortrose area of the Black Isle.
The procession met at Torvean Golf Club on Inverness' west side, before departing in tandem to the crematorium, situated around one-and-a-half miles away.
His brother in law, Nathan Shields, paid tribute to the farmer telling The Press and Journal: "Murray was very much a family man who loved his wife and children.
"He was all about his family, kids and farming, and although he worked away or often worked for long hours, he never begrudged it or moaned about having to go away to provide for his family.
"We are extremely thankful to all the people who have got in touch to help us locate a trailer and tractor.
"Thank you to everyone who has helped organise our send off for Murray, it has been really 
touching."