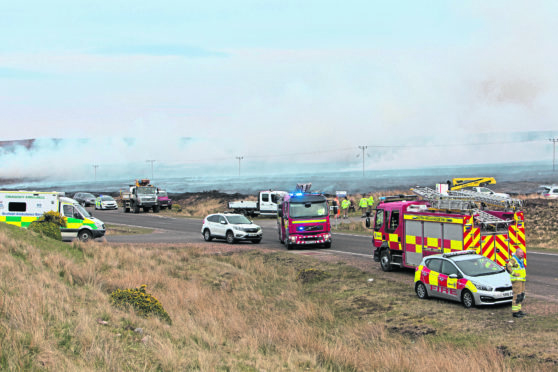 A wildfire in the far north yesterday wiped out the power supply to locals within the vicinity and even forced the closure of a section of the North Coast 500.
It was another example of the blazes which have struck the north of Scotland in recent weeks and smoke billowed from the fire's location, obstructing the view of drivers travelling on the route.
The conflagration, situated to the west of Melvich village, took hold on Sunday evening shortly after 10.10pm, with firefighters returning yesterday morning to tackle the blaze.
Six fire appliances were sent to the scene, with a community support unit from Inverness and a community response unit from Lybster also deployed.
Crews from Thurso, Wick, Lairg, Golspie, Tain and Durness operated in a shift rotation to battle the fire, with three fronts taking hold, close to the Strathy North wind farm.
Firefighters also asked for the assistance of a helicopter to curb the impact, but a spokeswoman for the fire service confirmed it was not possible to fulfil the request.
She said: "We received reports of the fire at 10.12pm on Sunday evening.
"Six crews have been deployed to the area near to Melvich by Thurso, where firefighters have been using beaters to tackle the fire, which crews on the scene have reported as burning in three different fronts. Firefighters were at one point withdrawn to a safe area as the fire burnt near to power lines."
A swooping change of wind direction caused the withdrawal of firefighters as the fire swept down to the A836 Tain to John o'Groats route near Melvich, burning power cables that stood in its way.
As a result, the route was closed around 3.30pm, with police officers providing assistance to deal with traffic management.
Engineers from Scottish and Southern Energy also attended to reinstate the power supply for locals, with an ambulance deployed on standby as a precautionary measure.
Crews on scene began scaling back shortly after 6pm, with police leaving at 6.15pm.
This morning a fire spokeswoman said crews were still on scene with appliances from Kinlochbervie, Thurso, Wick, Dunbeath and Durness, as well as a volunteer crew from Balintore, either in attendance or making their way to the scene to swap with the current firefighters.
She said from the last message there was 200sqft of heath involved.
Elsewhere, crews from Cannich, Beauly and Drumnadrochit tackled a blaze last night, after a tree reportedly brought down an electrical cable which resulted in the ignition of a fire, spanning approximately 50 feet.
Crews were sent to Inchmore at 6.04pm, with beaters and knapsacks in use, whilst they waited for an engineer to ensure the fallen cable was isolated from its power source.
The rise in outdoor fires comes after the Scottish Fire and Rescue Service issued a wildfire warning that will remain in place across the county until Friday.