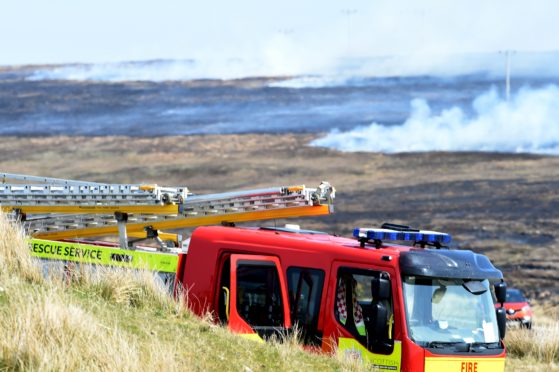 Firefighters remained at the scene of a large wildfire in Sutherland last night in an ongoing effort to prevent "absolute devastation".
The 5,000-acre blaze, located one mile west of Melvich near Thurso, has brought chaos to the local community resulting in several road closures and a power outage.
More than 800 properties were left without power at the height of the fire, which started around 10pm on Sunday.
Around a dozen fire crews from across the north battled the flames on the ground using beaters and knapsacks as a helicopter was drafted in to help bring the inferno, close to Strathy North wind farm under control.
Crews from Thurso, Wick, Dunbeath, Balintore, Kinlochbervie and Durness worked in rotations with crews from Inverness, Tongue, Golspie, Cromarty and Bonar Bridge using beaters and knapsacks across two sectors.
Two crews from Thurso and Wick remain at the scene this morning, and will soon be joined by appliances from Durness and Helmsdale.
Local councillor Linda Munro spoke of the impact the wildfire has had on the local community.
She said: "It's absolutely devastating. There are wildfires all over the area and its causing no end of disruption. Yesterday there was a power outage that went all over the area and when something like that happens, one of the things it means is the petrol pumps go off so in Bettyhill we had a back-up of North Coast 500 tourists and others who want to fuel up before they move on because there isn't so many access places. That's something we will definitely be looking at in relation to community resilience going forward.
"Something as simple as that caused chaos. They dealt with it very well but it's something that needs to be taken extremely seriously."
Around 882 residents were left without power between 3.30pm and 10pm on Monday as the substantial heath fire caused damage to several pylons.
Six unmanned business sites remained without power yesterday as engineers from Scottish and Southern Energy Network liaised with firefighters to gain access to the affected areas.
A spokeswoman from SSEN apologised for the disruption.
She said: "We would like to apologise to customers in the Melvich area whose power was temporarily interrupted yesterday, and assure them that our teams did everything possible to restore their supplies as safely and as quickly as possible."
The A836 was closed by police shortly after 9am yesterday as smoke bellowed from the fire which a fire spokeswoman said 'remained close to the roadside'.
The road was later reopened as firefighters remained at the scene.
The fire is the latest in a string of incidents to have battered the Highlands in recent weeks, causing devastation to the open land in various local communities.
Mrs Munro added: "On behalf of the community and myself I really cannot thank them enough for what they are doing at this time of year to keep us safe. They are all that stands between us and absolutely devastation."
David Mackay, operations manager at Scottish Natural Heritage  said: "Wildfires have caused considerable damage in the far north of Scotland in recent weeks including to important protected areas which are fragile, easily damaged by fire and can take a long time to recover.
"The fire danger risk is currently very high for Scotland, rising to extreme by the end of the week, and in these kinds of conditions it's important to remember that wildfires can spread quickly and have a devastating impact on nature and wildlife.  At this time of year the nests, eggs and chicks of ground nesting birds such as greenshank and golden plover are particularly vulnerable.
"We'd also ask members of the public to bear in mind that when there is a high fire risk, the Scottish Outdoor Access Code advises people not to light open fires and to use a camping stove instead."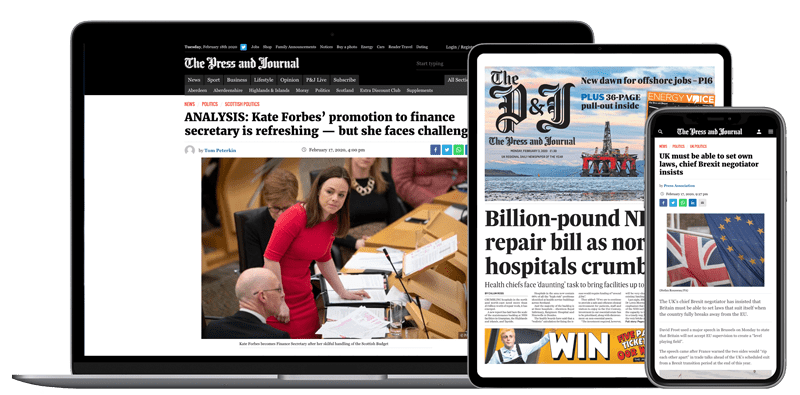 Help support quality local journalism … become a digital subscriber to The Press and Journal
For as little as £5.99 a month you can access all of our content, including Premium articles.
Subscribe