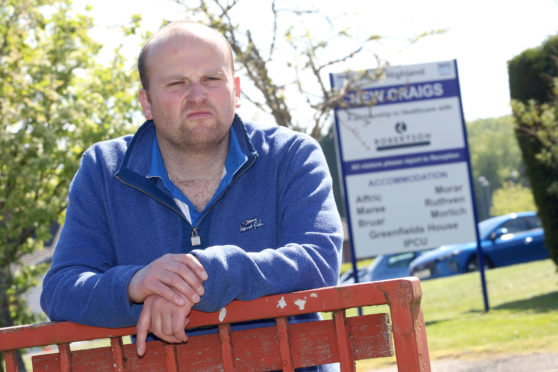 After enduring appalling abuse as a child at the hands of a paedophile ring linked to former MP Cyril Smith, Peter Todd sought psychological treatment in his adult years – but then  endured a five-year wait for help.
The 35-year-old yesterday revealed his relief that "the healing process" has now begun, despite a hard-fought campaign for treatment with NHS Highland.
He still has issues with the way his case was managed over the years, and has complaints ongoing which being dealt with, but he has now met with senior NHS managers, including the new chief executive of the crisis-hit health authority, and is now happy he is receiving counselling.
Mr Todd said: "I would like to praise the new chief executive of NHS Highland for meeting me to start the healing process and informed him that NHS Highland has a lot of highly dedicated and compassionate staff.
"I made it clear doing a 17-hour, 250-mile round trip for mentally draining treatment hinders patients, not helps them.
"I discussed with him the shambolic state of mental health services in Caithness and he commented mental health provision is one his top priorities.
"I am delighted at long last to seeing action, but much more needs to be done and I will continue campaigning for better clinical psychology services to be delivered locally in Caithnes."
Mr Todd, who now lives in Thurso, last week gave evidence at a child abuse hearing in England and described how he was a victim of a paedophile ring linked to former MP Cyril Smith – which the Press and Journal revealed last year.
He had attended a school in Underley, Cumbria, in the 1990s which is now at the centre of the inquiry. He has since moved north to the Highlands.
He is being supported in his campaign for mental health services to be delivered locally by Highland councillors Andrew Sinclair and Matthew Reiss, as well as Conservative MSP Edward Mountain.
Mr Todd said: "My view is victims of historical abuse have been left to rot on waiting lists which is the fault of management and governments.
"The clinicians do the best they can with the resources they have available, and thankfully the new management at NHS Highland appear to be listening. I hope they can now do more."
Last year a freedom of information request shows a mental health waiting list standing at 250 – including 74 waiting for clinical psychology.
An NHS Highland spokeswoman said: "We always strive to deliver the best care for all of our patients."