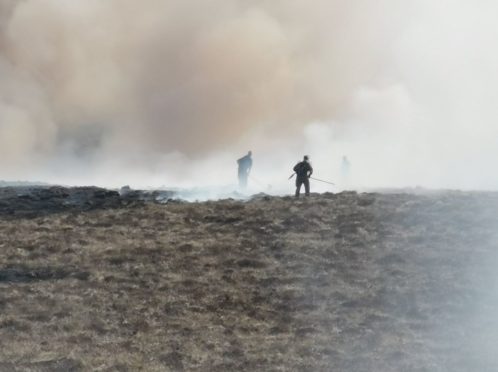 Dozens of firefighters were again tackling a mammoth wildfire in the far north yesterday as it entered its fifth day of uncontrolled burning near to the Strathy North Wind Farm.
The site, which consists of 33 turbines, is located just over four miles from Strathy village.
On Thursday, engineers from the wind farm had to be evacuated as the fire encroached on the area in which they were attempting to repair several damaged cables.
And yesterday, SSE bosses confirmed the turbines were still failing to export electricity to the grid as a result of the fire, though the turbines themselves have not sustained damage.
Nine appliances were in attendance near to Melvich yesterday, again joined by a helicopter brought in to water bomb the blaze which has been burning since Sunday evening.
The public have been urged to continue to avoid the area and to keep windows closed due to thick smoke.
Police were also directing traffic, with the smoke also affecting visibility on roads for miles around.
Scottish Fire and Rescue Service station manager Alex McKinley said: "Our crews are tackling a number of hot spots across a large area, while helicopter water-bombing also continues to control and contain the fire.
"We would like to remind the public to stay away from this area this time and remind the local community to ensure windows are closed if smoke travels in the direction of their homes.
"Our firefighters will remain on scene for some time yet."
The blaze, which at its height spanned almost 5,000 acres on Tuesday, has been burning close to turbines at the Strathy North turbines.
Councillor Linda Munro praised the effort of the fire service and local community.
"Everything that could possibly be done is currently being done," he said.
"I have every faith in the emergency services who have attended and I have the utmost confidence in their ability to curb this fire.
"The local community have been praised highly for their care and support throughout.
"It is concerning to see some puffs of smoke close to the roadside, but the emergency services are quick to respond. They are to be commended for their efforts."
An SSE spokesperson said: "SSE Renewables' Strathy North wind farm site remains on an outage due to an off-site fault on the transmission network caused by a wildfire.
"We are working closely with Scottish and Southern Electricity Networks to restore the connection, which will enable Strathy North wind farm to resume export to the grid.
"No damage has been sustained to the wind farm itself."