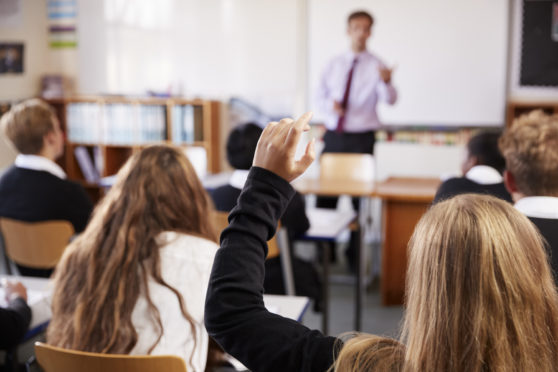 Up to 50 vacant education jobs for specialist support staff in Highland schools are being "deleted".
Headteachers from across the region will be briefed on the latest drastic cutbacks at a series of meetings today.
Cash-strapped Highland Council chiefs have already revealed 63 full time equivalent Pupil Support Assistant (PSA) posts will be axed in the latest round of budget measures.
Many of the PSAs are part-time and union chiefs – who are balloting staff over potential strike action – believe the impact will eventually impact upon far more than 100 employees.
Even if 'only' the 113 posts already identified are affected, that represents a full 10% of all the 1,100 additional support needs staff in schools.
In a memo seen by The Press and Journal, council bosses say around 50 PSA jobs that are vacant, or will become vacant this summer, will not now be advertised and will be "deleted" from the education system.
One senior councillor, who did not want to be named, said the steps being taken were "draconian" and risked damaging education in the Highlands.
"This is the start of real cuts to education which will have a serious impact on children and parents across the Highlands," they said.
"The council chiefs seem delighted that they are meeting their targets, but they don't actually understand the impact this will have on other staff, teachers, special needs pupils and their parents.
"This is a Draconian measure which is being pushed through without anyone in administration challenging it."
---
>> Keep up to date with the latest news with The P&J newsletter
---
The council memo states: "Final numbers and locations will be confirmed on Monday and PSA staff in schools will be briefed in person by their Head Teacher.
"With nearly 50 vacancies identified for deletion there will be a small number of staff to deploy into other roles.  Some have already expressed an interest in doing that."
Paul MacPherson, convener for the GMB Highland Council branch, said the move to ballot members on strike action came as a direct result of anger expressed to the union over proposed PSA cuts, but refrained from commenting further until the outcome of today's meetings.
The financial cuts, the union rep said, would see £700,000 saved this financial year – to address an overspend from last year – with a further 
£1 million to be cut in each of the next two years.
The council memo adds: "We confirmed that this year's allocations would take into account the need to make reductions of 63 FTE PSA posts for the next school session in August.
"We currently have over 1,100 staff in these roles.
"Since then, there have been discussions with head teachers in the schools potentially affected by reduction of 63 FTE PSA posts.
"PSA staff in schools will be briefed by their head teacher from Monday to confirm what impact there will be for them.
"Trade Unions will also be advised from Monday about which schools will see a reduction in posts as part of this process and how that will be managed."
A Highland Council spokeswoman said: "As work within the ASN Change Programme progresses we are continuing to provide regular briefings to the PSA workforce.
"We have over 1,100 PSA members of staff and work continues to identify the 63 FTE posts to be reduced from after the summer holidays."
She said it was hoped the reductions could be assisted by "deleting posts that are vacant or expected to be vacant by the end of term" but they are looking for other PSAs to register their interest to moving to new roles.
She added they were were continuing to work with trade unions on "ensuring a smooth transition" for the staff affected.