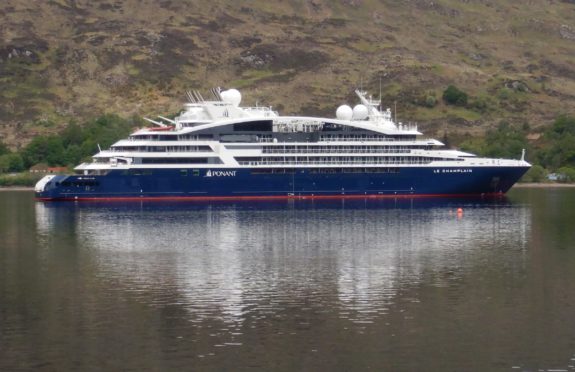 The captain of a cruise liner made the entrance to Fort William, through the Corran Narrows, look easy yesterday – unlike the last ship that couldn't come in.
Captain Bucher said the notoriously difficult passage through the Corran Narrows was "fine," adding that a sector light fitted three years ago had been very helpful in getting Le Champlain into Loch Linnhe before she docked in the bay at Fort William.
Last month, the MV Astoria was unable to get to Fort William due to winds at the Corran Narrows. After trying four times over the course of a day the captain gave up, and instead returned to Gourock.
VIDEO: Cruise liner fails to find way to shore in Fort William
Yesterday, in bright sunshine on a calm sea, Le Champlain – named after the French explorer who discovered Quebec – arrived with her 170 passengers, who were taken by bus to tourist attractions around the area, including to Glencoe and Glenfinnan. She is the first large cruise liner this year into Fort William.
Volunteer Sarah Kennedy of the Fort William Marina and Shoreline Company, went aboard ship with a small delegation from Highland Council to welcome the ship on her maiden voyage into the town.
Mrs Kennedy said: "We were made very welcome aboard the ship.
"The captain said the Corran Narrows were fine. He said that a sector light we had fitted three years ago, on advice of the captain of the Boudicca, was very helpful to guide him through. While they have navigational electrics aboard the ship – he said he also needs to see where he is going  – and the sector light was very helpful."
---
Local and Proud: Follow our new Facebook page dedicated to the Highlands and Islands
---
During the day, a passenger who took unwell at sea was taken from the ship to the Belford Hospital when it docked in town.
Due to a breakdown in communication, the man who had suffered from a non-life threatening illness, had to be laid on the ground in a body stretcher – after being brought from the ship by members of staff, because an ambulance had not been called to meet him.
Sarah Kennedy, a director of the Fort William Marina and Shoreline Company, said: "I have asked the captain of the ship to make sure arrangements are made for passengers who take ill in future.
"The captain could have phoned me, and we would have had the ambulance waiting for the poor man.
"We organised for an ambulance, but the man was on the ground for 10 minutes or more after he was brought ashore. No one wants that to be the welcome to Fort William."
Mrs Kennedy confirmed that the man's wife had been booked into a hotel for the night while her husband remained at the Belford.