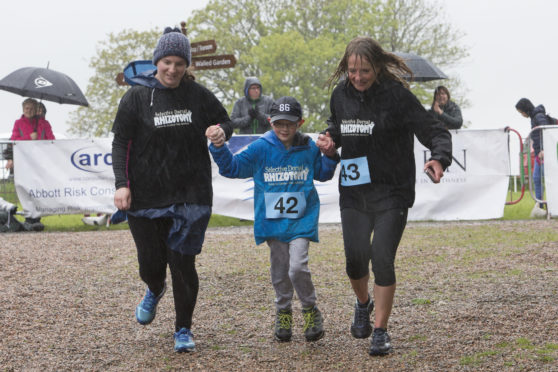 This is the little boy health experts said would never walk alone, or even stand unaided.
But Kayden Malcolm, now seven, has proved them all wrong.
Yesterday the plucky youngster tackled the Mey Mile – a mile long walk through the grounds of the late Queen Mother's Caithness home, The Castle of Mey.
The event was held in conjunction with the Mey 10k, organised by local running group, North Highland Harriers, the most Northerly 10k in mainland Britain.
It's been a long haul but yesterday proved to be a huge leap forward for the boy who was diagnosed with Spastic Diplegic Cerebral Palsy at 15 months.
His muscles were so tight he was unable to walk unaided or even sit on the floor with his legs straight.
But dad and mum, Alan, 33, who works at Dounreay and Sarah, were not prepared to give up on their son.
Sarah, 27, a chef, said yesterday: "The NHS told us Kayden would never walk or even stand independently. They said he would be wheelchair bound. Well look at him now. He is still learning to walk but the walking frame is long gone. And today the Mey Mile was a real milestone . Just taking part was a victory in itself. We are so very proud of him."
People from all over the country supported the fund "Kayden's Wish to Walk" which soon topped the £80,000 needed to send the youngster to St.Louis, Missouri, in 2016.
Alan And Sarah were confident about the life-changing procedure right from the start because it boasted a 100% success rate.
Called Selective Dorsal Rhizotomy (SDR) it is performed on the lower spinal cord. The nerves are separated and then identified via an electrical stimulation, with the tight ones being cut.
Kayden, who still requires intensive and regular physiotherapy, has been in training for the big day.
He did the fun run and walk yesterday in rainy and cold conditions.
Ultra runner Lorna Stanger, a member of Team Kayden, said: " Kayden did really well, even better than we expected. He started off strongly running and finished off just as strongly running. He probably ran more than half the course and walked the rest. His mum Sarah insisted on picking him up for a wee bit but Kayden wasn't keen. He's got his medal and he's over the moon. He is a right wee fighter. It was amazing to see and wonderful to be part of."
Mrs Malcolm said: " My goodness he did so well. We couldn't be more proud of him. This was his Olympics and he made it. He's got his medal".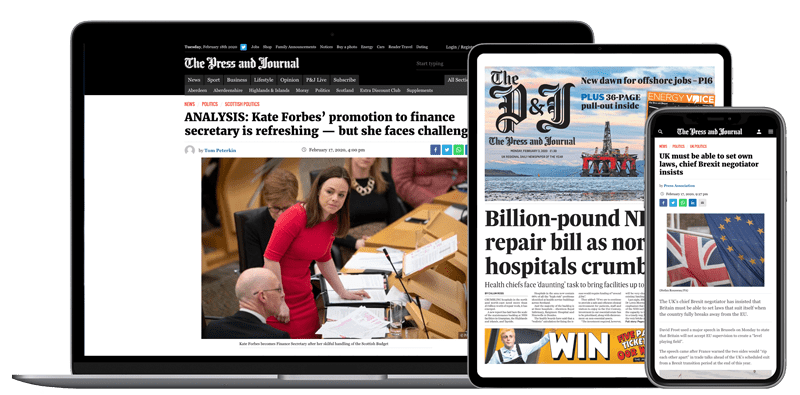 Help support quality local journalism … become a digital subscriber to The Press and Journal
For as little as £5.99 a month you can access all of our content, including Premium articles.
Subscribe