A flooded quarry is to be drained and forensically examined in a "groundbreaking" bid to discover the bodies of missing Inverness mum Renee MacRae and her toddler son – and finally end a 43-year-old mystery.
Around 300 witnesses will also be re-interviewed as efforts to finally solve the 43-year-old mystery disappearance of tragic Renee, 36, and three-year-old Andrew intensify.
Senior investigating officer Detective Inspector Brian Geddes told The Press and Journal that he was hopeful of discovering their remains – and that silt and sediment at the bottom of the quarry may have preserved vital evidence.
This was supported by world-leading forensic anthropologist Professor Dame Sue Black who said remains – if found – would be "relatively undisturbed" and evidence could be found "in situ".
Detectives have been carrying out a review of all the evidence gathered over more than four decades – as well as doing a preliminary search of the quarry last year – which has led directly to the abandoned pit being drained.
DI Geddes said: "Work is now underway to carry out a forensic search of Leanach Quarry where we believe key pieces of evidence may have been concealed.
"A key part of this operation is to recover the remains of Renee and Andrew if they are within the quarry, and gather evidence vital to this on-going investigation."
Mrs MacRae left her home in Inverness with Andrew on November 12, 1976, heading south on the A9.
Suitcase could be the clue to finally solve Renee MacRae mystery
On the evening of her disappearance, Mrs MacRae, who was estranged from her husband Gordon, had set off for Perth to meet her lover Bill McDowell, Mr Macrae's married accountant.
He told police they never met.
Mrs MacRae's burned-out BMW car was discovered in a lay-by on the A9 south of Inverness. Neither Renee nor Andrew have been seen since.
An investigation has been ongoing since 1976 and is now led by Police Scotland's Major Investigation Team.
Speaking yesterday at the site, DI Geddes said: "This is a significant development in the ongoing investigation into the murders of Renee and Andrew MacRae."
He said the ongoing investigation included looking at "lines of inquiry that were never concluded in 1976", which had involved an initial search of the quarry.
When asked if this was the "last chance saloon" in the investigation, he admitted "possibly", but added: "There are other aspects of the investigation being looked at and we are re-interviewing 300 witnesses. But what we are doing is unprecedented.
"We are working with a number of different partners on what will be a challenging and complex operation expected to last several weeks.
"The quarry has previously been deemed too dangerous to search using divers, which is why the decision has been made to pump the water completely from the site.
"We will thereafter remove the sediment from the quarry, which will allow specialist search officers and forensic experts to carry out a meticulous search of the material."
He added: "It is a major undertaking for everyone involved but the determination remains within Police Scotland to solve this case and bring closure to Renee and Andrew's family and friends after all these years.
"We intend to do everything we can to ensure that any key pieces of evidence which we believe are in there, are recovered."
Bodies would be "relatively undisturbed" if found
A leading forensic scientist yesterday said the condition of the quarry would provide "a good prospect" of any remains found being "relatively undisturbed" and evidence being found "in situ".
The draining of Leanach Quarry is expected to begin later this week and Professor Sue Black, of Lancaster University, hopes it will be "successful and bring Renee and Andrew home".
Dame Black, originally from Inverness, assisted police in the forensic examination of Dalmagarry Quarry several years ago while working for Dundee University, and that team will be brought in again on this latest search.
She welcomed the move by police to search Leanach, and confirmed DI Brian Geddes's assessment that silt and sediments provide good conditions to be preserved remains is any are found.
She said: "Silt and sediment offer a good prospect for survival of remains which is also aided by the cold temperature of the water and its still nature, i.e. not running water.
"This tends to leave evidence in situ and relatively undisturbed."
She added:  "We all hope this is the investigation that will be successful and bring Renee and Andrew home, but if not, then we will keep on looking because it is the right thing to do.
"It is important that cold cases have regular review not only for the sake of justice but to ultimately secure some resolution for families."
Work has already begun to construct an access road to enable specialist equipment to be brought in.
Around 13 million litres of murky water is expected to be pumped out of the flooded pit, which in places can be up to 12 metres deep.
Once all of the water has been removed more work will be carried out to dig out the silt and sediments which have gathered in the last 43 years since Renee and Andrew disappeared.
This will be forensically examined, and Police Scotland has discussed the operation with the Dundee University forensic team.
---
Local and Proud: Follow our new Facebook page dedicated to the Highlands and Islands
---
Police officers will remain on scene 24 hours a day throughout, while a 16-strong team will be involved in the whole search operation, which is expected to last several weeks.
DI Geddes, who is leading the investigation, said a budget had been approved but he would not yet reveal the cost yesterday, saying it was "too early to be publicised".
He added: "This is a first. It is groundbreaking. We have been all over the UK looking for experts on this.
"There will obviously be challenges to be met along the way.
"We have access to aerial photographs from 1976 and I am confident we will dig out everything that has been deposited since 1976 and we have had experts from Belfast University to assist with this.
"We also have a team of forensic anthropologists from Dundee University."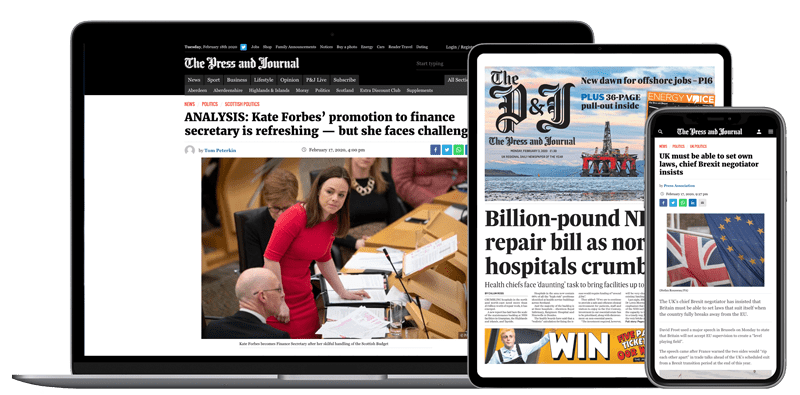 Help support quality local journalism … become a digital subscriber to The Press and Journal
For as little as £5.99 a month you can access all of our content, including Premium articles.
Subscribe