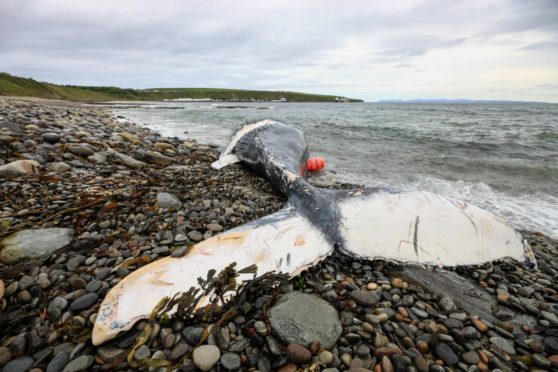 Witnesses to sea mammals caught up in fishing gear are being urged to report sightings to a new agency set up to help animals in distress after the latest tragic whale death in Caithness.
A Humpback whale was seen floating near to Scrabster Harbour, but no one informed the response team from the Scottish Entanglement Alliance until the young animal was washed ashore yesterday morning.
The dead humpback whale was eventually found on the shore entangled in fishing gear at Scrabster, near to Thurso, Caithness.
The whale was being removed from the shoreline by environmental health workers from Highland Council yesterday evening.
The whale had been inspected earlier in the day by a response team from the Scottish Entanglement Alliance, a body working in association with the Scottish Marine Animal Stranding Scheme to find ways of understanding or stopping strandings.
Andrew Brownlow, of the Scottish Marine Animal Stranding Scheme, told the Press and Journal: "A veterinary pathologist and a stranding co-ordinator will assess the animal in Caithness.
"We understand the whale was seen on Wednesday floating in the sea, ensnared in the fishing gear – we would urge people to report sightings as soon as they can so we can understand better what is going on.
---
Local and Proud: Follow our new Facebook page dedicated to the Highlands and Islands
---
"It is an all too common tale where we hear of a standing by a whale, or other marine animal, that has been caught up in fishing gear or a creel line.
"Last week in Dunbar there was similar incident where a whale was entangled for some time and she was eventually washed ashore.
"Sadly it seems to be an ever increasing reason for animals being washed up on shorelines."
He added: "No one wants a whale to be entangled and caught, especially not a fisherman – this is not about blaming anyone – the SEA project seeks to understand why entanglements happen and how we can reduce the risk.
"These are hugely powerful animals and when they become entangled it is quite likely they will also destroy a fisherman's equipment whether than is a creel or machinery aboard the vessel.
"So we know fisherman want to make sure entanglements stop as well."
The Scottish Entanglement Alliance can be contacted on 01463 246048 or 07393 798153, or via email on entanglement@sac.co.uk.