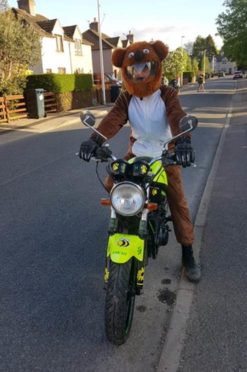 An Inverness fundraiser will roar round the North Coast 500 in memory his brother and his best friend.
George MacIver will attempt to complete the scenic route on Sunday, July 7, aboard a 40-year-old Honda moped dressed as a bear.
The 55-year-old will travel the route alongside fellow rider Lenny Cameron in an effort to raise their target of £500 for the Highland Hospice.
Looking ahead to their impending journey, Mr MacIver said the trip looked set to be quite a challenge.
He said: "It's less miles but I'm doing it with a 40-year-old Honda. One of my friends had donated it for the run so it's an old bike – it's only a 50cc and it's got a top speed of 45 miles an hour. It's 500 miles but you will only do an average of about 40mph."
Mr MacIver became an active fundraiser for the charity eight years ago and has so far gone on to raise more than £10,000 for the charity.
He says his determination to keep going is spurred on by the fact his "brother and my best mate both went through it."
He added: "They both died from cancer within two years of each other and it was just then when I saw the help the hospice gave us, I just thought why not try and do something each year, in memory of them and to help other people.
"We all know people who have been there and have gone through it and everything and I thought we could have a laugh, raise a few quid for the hospice all's good really."