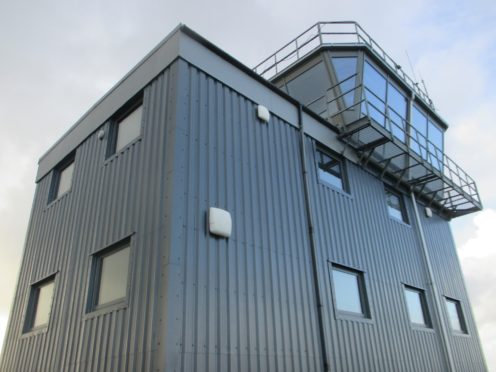 The revamp of the air traffic control tower at Kirkwall Airport has been completed six months ahead of schedule.
The tower, which serves to direct and provide assistance to more than 14,600 aircrafts each year, has been the subject of refurbishment works worth an impressive £500,000 for the past three years.
Now, the second phase of the project has been completed with the work designed to improve the lifespan of the structure and overall performance of the building.
Under phase two, work has been undertaken to waterproof the basement level of the four-storey building to prevent any water from seeping in from the surrounding peatland.
A new heating system has also been delivered to the offices and welfare facilities within the tower, alongside the replacement of floor coverings, redecorating and replacing ceiling tiles.
The full renovation is expected to extend the towers use by around 25 years, with five local construction companies contracted in to undertake the extensive renovation during both phases of the project.
Keith Inglis, head of infrastructure services at Highlands and Islands Airports Limited (Hial) who operate the airport, praised the work of the contractors to overcome some challenging conditions on the revamp.
He said: "Major works to any of Hial's assets always present a number of challenges – from remote locations and adverse weather conditions to supply chains.
"Works in the visual control room offered a particular challenge as the project scope included replacement of the large, heavy glazing panels.
"Alfred Flett, Bell Contracts, Perfect Circle and Kirkwall Airport staff worked collaboratively to overcome these challenges while maintaining airport operations and deliver this transformational project."
---
Local and Proud: Follow our new Facebook page dedicated to the Highlands and Islands
---
During the revamp a clear field of vision for air traffic control officers was required to coordinate a safe and orderly flow of air traffic.
Design of the remedial work was undertaken by construction consultancy Perfect Circle, who previously undertook the refurbishment of glazing at Sumburgh Air Traffic Control Tower in Shetland back in 2017.
Managing director of Perfect Circle, Victoria Brambini said: "It was a privilege to be involved in the design and implementation of the works to extend the life of the Air Traffic Control Tower in Kirkwall, which provides a vital service to the communities of Orkney, neighbouring islands and mainland Scotland."
Phase one, which was completed in September 2018, provided the tower with a contemporary external finish, using as many existing materials as possible.
The announcement was met with a mixed reception from Orkney MSP Liam McArthur, who yesterday said: "Early completion of this refurbishment is good news. Having visited the tower at Kirkwall airport last year, I know how badly it was needed.
"It would be more welcome still if the refurbishment signalled a change of heart by Hial over its plans to centralise air traffic control services.
"Rather than press ahead with a single, remote tower based in Inverness, Hial should be investing in ATC facilities at airports across the Highlands & Islands, including Orkney."