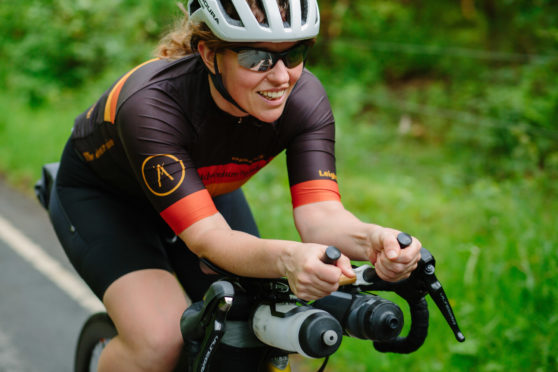 It's almost exactly a year since Jenny Graham launched her bid to cycle round the world faster than any other woman.
Whether negotiating sub-zero temperatures in Australia, facing the constant risk of bear attack in Canada or dangerously close encounters with lorries on the notorious Trans-Siberian Highway, the 39-year-old child support worker from Inverness was determined that nothing would stop her mission.
And yesterday she received formal confirmation of her place in history at a special ceremony hosted by Guinness World Records in Edinburgh.
Ms Graham, who completed her remarkable feat in October, knocked almost three weeks off the previous record of 144 days set by Italy's Paola Gianotti in 2014.
---
>> Keep up to date with the latest news with The P&J newsletter
---
The 18,000-mile route took her across four continents and 16 countries as she travelled from Germany to Poland, Latvia, Lithuania, Russia, Mongolia and China.
She then flew on to Australia, New Zealand, Canada and the USA as the prelude to returning to Europe and finishing, via Portugal, Spain, France, Belgium and Holland.
Eventually, the Scot completed her journey in just 124 days and 11 hours and was met by her son, Lachlan, and family and friends at the Brandenburg Gate in Berlin.
Her achievement had, however, still to be ratified and scrutinised by the GWR authorities.
Now, though, she is part of a unique combination with her compatriot Mark Beaumont, who holds the men's world milestone after circumnavigating the globe in 78 days in 2017.
Ms Graham said: "I was curious to see how far I could go and it's terrific now I am officially a world record holder.
"When I set-off this time last year I wasn't sure what lay ahead, but the journey was awe-inspiring, exhausting and ultimately life-changing.
"I would encourage anyone to get out on their bike and discover they are capable of far more than they think they are."
Ms Graham revealed that her passion for cycling developed almost by accident; and she didn't regularly get on her bike until she was in her 20s.
She began mountain biking in 2004 and, following a cycling holiday in Romania, caught the bug with a vengeance.
She added: "I completely fell in love with travelling through the mountains and those two weeks changed everything.
"We had no itinerary, but my friend Cathy and I just went exploring on our bikes – it was an incredible time."
In 2017, she was given an Adventure Syndicate (a Cycling UK-affiliated group) bursary place and met coach John Hampshire, who offered to help her for a year for free.
She said: "It was like winning the golden ticket. He believed in me and he knew what I could be capable of, but I didn't have the money to pay for a coach."
Craig Glenday, GWR's editor in chief, said: "Jenny's achievement is fantastic and she truly embodies determination and passion.
"It is an honour to be announcing her title today and I am sure that she will inspire others to embark on their own adventures."
Mr Beaumont, meanwhile,  said: "It was phenomenal riding and Jenny went all the way round the world with a smile, with a cheer, with a sense of humility and the excitement of the unknown around the corner. I am thrilled for her."
Cycling UK's chief executive, Paul Tuohy, believes her exploits demonstrate what can happen when ordinary men and women set their sights high.
He said: "Jenny's record-breaking trip shows that you don't need to be a professional athlete to turn a love of cycling into an inspirational journey – she has certainly encouraged others to see they are so much more capable than they think they are."
Ms Graham's name will appear in the Guinness World Records 2020 edition.