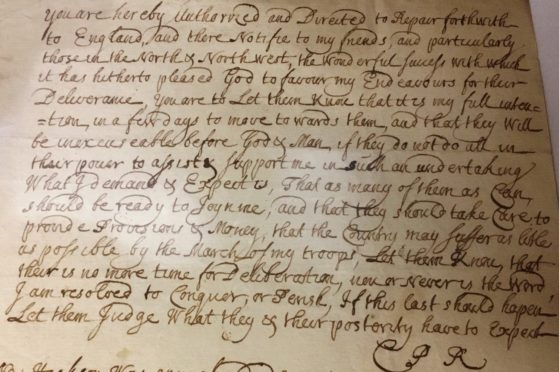 The hit novels and blockbuster television series have captured the imagination of millions.
But this week a first-of-its-kind Outlander day will explore the real history behind the Jacobites and the events that changed the course of Scottish history.
Staff at the Lochaber Archive Centre and the West Highland Museum are inviting visitors to join them for an intriguing delve into their archives.
The team will offer access to some hugely important documents, including one penned by the hand of Charles Edward Stuart – Bonnie Prince Charlie.
Outlander follows the fortunes of Claire Fraser, a woman who travels through time from the early 20th century to 18th century west Highland Scotland, where she finds herself in the midst of a tumultuous period in the nation's history.
It has become a worldwide hit, attracting visitors to Fort William – where much of the series is based – and new interest in the Jacobite cause.
High Life Highland's engagement officer, Lorna Steele, said she was looking forward to using the information in the archive to bring the history behind the TV series to life.
Ms Steele said: "The event is being jointly hosted by Lochaber Archive Centre and West Highland Museum.
"There will be two tours, each looking at a display of archive material at Lochaber Archive Centre, including letters by the Old Pretender, Lord Lovat and other famous Jacobites, and a tour of the West Highland Museum which will showcase items belonging to Lord Lovat and others brought out of storage especially for the event.
"One of the documents we will be showing off  from the archive collections of the museum, is a copy of orders given by Charles Edward Stuart, in around 1745, instructing his army to march into England and rally support for the Jacobite cause."
That document reads: "You are hereby authorised and directed to repair forthwith to England, and there notifie to my friends and particularly those in the north and north west, the wonderful success with which it has hitherto pleased God to favour my endeavours for their deliverance.
"Let them know that there is no more time for deliberation, now or never is the word.
"I am resolved to conquer or perish.  If this last should happen let them judge what they and their posterity have to expect…"
Tickets are limited and must be booked in advance by visiting hlh.scot/archive-tickets or by calling the Lochaber Archive Centre on 01397 707050.