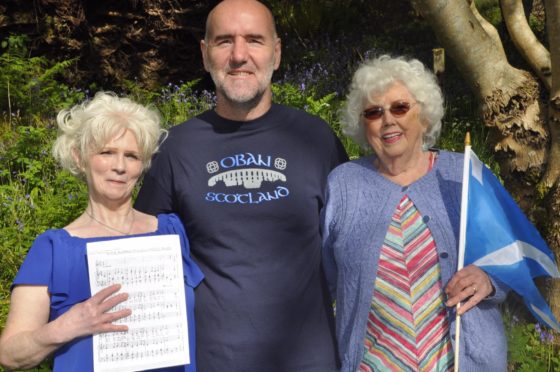 A song for Scotland will be launched as part of the Independence Rally being held in Oban this weekend.
The Bluebell, a tune by respected musician Colin Campbell who died in 2014, will be aired for the first time to the 2,000-strong crowd expected at the event.
The tune was rediscovered by Mr Campbell's family in January and has had its words updated by his daughter, Fiona Ferris.
Since then, Mrs Ferris has worked to launch the song as an inclusive alternative to the unofficial national Scottish anthem of Flower of Scotland.
Mrs Ferris said: "If we are to be an independent nation, then we will need to have something to sing.
"The Bluebell wasn't written as the new national anthem of Scotland. It was written by my dad just as a tune.
"The original words were written by musician Jean MacDonald, but they needed refreshed for a modern audience.
"When we dug it out in January and read the words we were moved by them, but I knew they needed to be updated for a modern audience. We have kept the original title."
The refrain is that "the bluebell still will sweetly bloom," Mrs Ferris said.
She added: "The bluebell is of course Scotland's national flower and it blooms all on its own.
"For me, that says no matter how much we are stamped on, or let ourselves down, there is always the opportunity to bloom again.
"Unlike the Flower of Scotland, where we sing about defeating armies, this is quite the opposite.
"It is about we as individual people being able to belong to the nation and each other and that we have a warm welcome for anyone who wants to come here.
"We are not trying to defeat anyone, we want everyone to belong.
"We just want people to enjoy the song. There is no copyright and we don't want people to buy it.
"The band who got together to record it don't even have a name as this was a one-off.
"This is a tune written by my dad for the people of Scotland. We want them to sing it."
The song was recorded in a recording studio in Glasgow and a video will be launched to coincide with the first public airing of the song at the rally in Oban on Saturday.