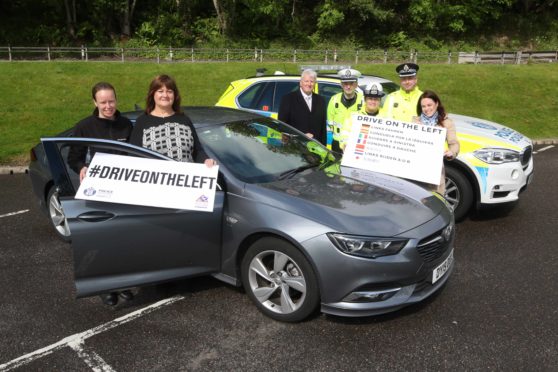 A world-famous Highland tourist spot was the chosen location yesterday as a road safety campaign designed at encouraging visiting motorists to drive on the left was officially launched.
Road Safety Scotland and police met members of the British Vehicle Rental and Leasing Association (BVLRA) and local MSP Kate Forbes, as the new Drive on the Left campaign was launched at Urquhart Castle ahead of peak tourist season.
The campaign's launch comes on the back of a spate of serious collisions over the past year and is designed to encourage visitors to safely enjoy the roads around Scotland.
Leaflets, stickers and even wristbands – designed to be worn on the left hand of drivers with the words Drive on the Left – have been produced in eight different languages. They will be distributed by car rental companies upon the delivery of a hire vehicle to visiting drivers.
Superintendent Louise Blakelock, deputy head of Road Policing in Scotland, hoped the campaign would reduce the number of incidents on roads.
She said: "Any serious collision on our roads is absolutely devastating and, while it may seem like a simple message, it's crucial to remind people of the differences of driving in Scotland and how to drive safely when they're visiting our beautiful country."
Inexperience of driving on the left was cited as a contributing factor in 65 incidents in the latest figures recorded by Road Safety Scotland.
To address the issue, the organisation distributed 50,000 copies of their driving in Scotland leaflet last year, outlining the concept of single-track roads and encouraging road users to keep left.
Now, the BVRLA has committed to distributing the new look leaflet with every vehicle that is hired from its members.
Michael McDonnell, director of Road Safety Scotland said: "We want all visitors to Scotland to return safely from their travels and the new campaign aims to raise awareness and remind people to drive on the left at all times, which is particularly important after they've taken a break or when the roads are quieter.
"With the tourist season upon us our new Driving in Scotland information leaflet also offers practical advice about looking both ways at junctions, driving on single-track roads and provides tips for planning your journey in advance, taking regular rest stops to avoid fatigue."
BVRLA chief executive Gerry Keaney added: "This is a great road safety initiative and we are delighted to see so many of our Scottish based members getting behind it", adding that their members are "ideally replaced" to promote the campaign before visitors set off on explorations on Scotland's roads.
Kate Forbes MSP, who has worked with Skye woman Sharon Anslow to launch the Keep Left campaign, praised the launch.
She said: "This initiative, launched just as the roads are getting much busier with tourists, will make a difference. It is the result of a lot of hard work by many people and I hope it will make our roads safer."
'This is going to help massively to improve safety'
Skye woman Sharon Anslow has been pushing for the Keep Left campaign after an accident earlier this year.
Her car was hit by tourists driving on the wrong side of the road near Slighachan, and crashed down an embankment.
The mother-of-three was seriously injured, and decided to do all she could to prevent another incident – launching the Keep Left campaign, which has captured the attention of local politicians and received the backing from authorities.
Yesterday, she was delighted at the implementation of the latest road safety campaign.
She said: "I am absolutely thrilled to see that this is happening.
"This is going to help massively to improve safety on our roads and it is quite right that it is taking place. We really need to have more awareness to keep everyone safe on our roads."
Ms Anslow continues to distribute Keep Left stickers to highlight the issue but has praised the reach of the organisations involved in the new Drive on the Left Campaign.
She added: "Having bigger organisations on board almost takes some of the pressure off me. I still distribute my Keep Left stickers but these bigger organisations have the resources and money to really get their leaflets, stickers and wristbands out there – and that is just brilliant.
"There has been great progress and it really is great to see this taking place."
The background
The campaign's launch comes after an Argentinian architect was fined after driving along the wrong side of a remote Highland road before colliding head-on with an oncoming car.
The incident left two people with serious injuries, one of them Oscar Curet's wife, who had been holidaying in the north of Scotland from Cordoba with her husband.
Mr Curet appeared in Inverness Sheriff Court on Thursday where he was fined following the crash on June 1, which occurred on the A86 between Spean Bridge and Kingussie near to Kinlochlaggan.
Mr Curet's wife sustained a broken neck and triple arm fracture as a result of the crash. An occupant of the other vehicle, Craig Milne, sustaining a broken left wrist and finger, as well as a fractured sternum. Mr Milne also required surgery for an injury to his pelvis.
Mr Curet admitted a charge of dangerous driving and was fined £2,000, He was also banned from driving in the UK for two years.
The 64-year-old Argentinian man was ordered to pay the fine within 24 hours or he would not be allowed to leave the country, which he duly did.
Sheriff Gordon Fleetwood said after sentencing: "My condolences for such an unfortunate end to your holiday."
The court room was told that Mr Curet had taken a rest from driving approximately five minutes before the collision.
Once he returned to the road, he resumed driving on the wrong side of the road before the crash took place on a blind bend.