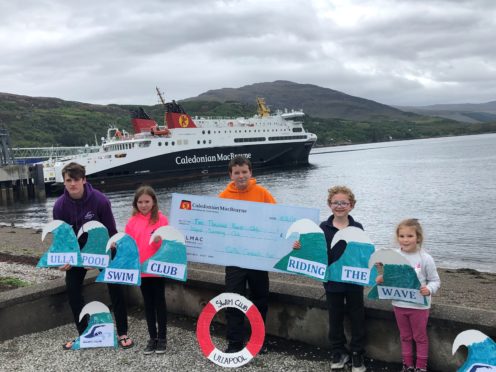 Ullapool Swimming Club is one of the first youth groups to benefit from west coast ferry operator CalMac's new community fund.
The club has been granted £2,000 to develop its Riding the Wave project, which aims to train new swimming coaches and help boost club members.
The project aims to improve swimmers ability, encourage better levels of fitness, and increase volunteering levels within the community.
Swimming club organiser, Gillian Meighan said: "This donation from CalMac will make a huge difference to Ullapool swimclub.
"It will both ensure that we have qualified trainers into the future, and provide an exciting incentive for the kids to gain a swim-coach qualification and stay involved with their club in the long-term."
CalMac's Community Fund is open to non-profit organisations involved in activities that will benefit young people aged 26 and under from island or coastal communities the company supports.
CalMac's director of community and stakeholder engagement, Brian Fulton said: 'The response since we started taking applications in March has been amazing.
"We had no idea the variety and creativity of different projects that are going on to help improve the quality of life for young people on the islands we support.
"We are delighted to make a contribution to making them a success."
Each application was judged by a screening panel of young people recruited from across the company's network, in partnership with Young Scot.
CalMac will now be taking applications from the Southern Hebrides and Firth of Clyde communities from July 1 –  details at
calmac.co.uk/community-fund