A £250,000 dinosaur attraction at a Highland adventure park will attract thousands of extra visitors and could lead to an upgrade of jobs, bosses said yesterday.
More than 20 life-sized dinosaurs roared into the Cairngorms as the first fixed model experience of its kind in Scotland flung opened its gates to the public.
Pupils from nearby Carrbridge Primary School were on hand to help declare the Landmark Forest Adventure Park attraction Dinosaur Kingdom officially open, as the red ribbon across the colossal gates was chopped away by Dr Neil "Jurassic" Clark, the curator of palaeontology of the Hunterian Museum at the University of Glasgow.
The Jurassic age dinosaurs brought to life once again as they breathe, move and even roar at passers-by.
A 50ft Tyrannosaurus Rex runs dwarfs many of the smaller dinosaurs scattered around the exhibition, however, is still not the largest moving dinosaur in the park with two diplodocuses – each spanning the length of three double-decker buses – welcoming visitors to Dinosaur Kingdom.
The opening of the attraction is anticipated to draw between 8,000 and 10,000 additional visitors to Landmark, with bosses at the adventure park estimating the expansion of some seasonal part-time jobs into full-time positions due to the windfall of visitors.
Danny Fullerton, general manager of Landmark Forest Adventure Park, said: "I'm delighted and highly excited to see the reaction of kids. The attraction is as I hoped. Kids are really enjoying it, possibly a wee bit scared, but you can see they are fascinated and awestruck.
"We are very hopeful that this will increase the number of visitors. It's a new avenue for us but we know it is of great interest to our whole market, which covers everything from the age of two up to the age of 122.
"This helps us to be sustainable going forward and it helps us to look forward with a bit of confidence."
The delivery of the attraction to the Highlands is incredibly appropriate as footprints have been discovered in recent times on Skye and on the mainland near to Inverness.
Dr Neil Clark, who officially declared the attraction open, said: "It was obviously a great honour for me to be invited here to open the attraction.
"It is a major factor in the future of palaeontology to have something like this.
"When you are working with the bones alone it is really difficult to get a feel for the size and the looks of these animals, so to see them like this is fantastic and it is very important for my research as well."
Mark Tate, CEO, Cairngorms Business Partnership said: " It's fantastic to see Landmark investing around £1m in improving their visitor experience. I have no doubt that Dinosaur Kingdom will be a major success for Landmark.
"We already know that the National Park attracts lots of repeat visitors, so it's great to see Landmark putting yet another stake in the ground for Aviemore and the Cairngorms as being one of the finest destinations in the UK if not Europe."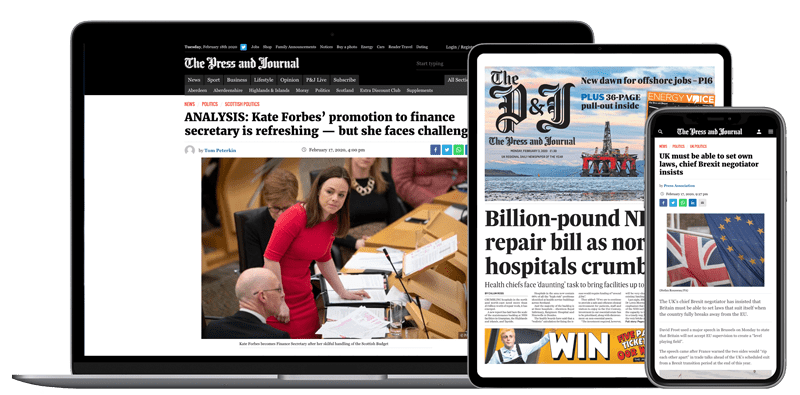 Help support quality local journalism … become a digital subscriber to The Press and Journal
For as little as £5.99 a month you can access all of our content, including Premium articles.
Subscribe